Laundering Your Lingerie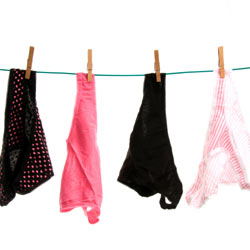 Forgive us for mentioning the unmentionables, but today's lingerie is big business. From bustiers to bras, slips to stockings, camisoles to catsuits, lingerie may take many forms, but it all serves the same purpose: creating a foundation for the knockout outfits worn on top. Whether you'll be sporting a skirt suit or a miniskirt, underwear should look and feel good, but even more importantly provide proper support. And how you care for your undies impacts how long they'll stay in working order. After all, they're not called delicates for nothing. Follow these easy steps to lingerie longevity.
Sort your skivvies. Anything with hooks (garter belts, corsets, bras, etc.) can snag the delicate fabric of other pieces, so separating your wears is imperative. If possible, hand-wash your intimate apparel, but if you must use a machine, then switch to a gentle cycle for your lingerie load. Employing a mesh bag or even a pillowcase for briefs and bras will also help them keep their shape and guard against underwires slipping loose and puncturing nearby fabrics.
Use mild detergent. When you're ready to wash your woollies, use a detergent specifically formulated for lingerie such as The Laundress Delicate Wash (thelaundress.com). If this isn't possible, a mild detergent or even a baby shampoo will work when hand-washing. These solutions contain fewer harsh chemicals than standard formulations and are safer bets for flimsy fabrics. Soak lingerie for approximately three minutes and agitate softly rather than rubbing fabrics together.
Drip-dry delicates. Lingerie should never be wrung out, nor should it be sent through a dryer, because intense heat can be damaging to materials such as Lycra and elastic. In fact, lingerie should be dried well away from any type of heat source, including heat lamps or radiators. Allow delicates to drip-dry over shower or bath rails, unless the care label advises that the item should be dried flat.
Store with sense. Most lingerie is ready for storage when it is dry to the touch. To avoid fading, lingerie should never be stored in direct sunlight. Store all garments with hooks and snaps fastened so that they can't snag other materials, and try not to fold the cups of bras inside one another. Lay all lingerie flat unless an item is intended to be hung, such as the case with full body slips. Proper storage will not only help to avoid damage to the materials, but nasty wrinkles as well.
Steam up the silks. Unfortunately some materials, particularly finicky silks and satins, may emerge from their hiding places with creases, crinkles, or crumples. To quickly rid your garments of these blemishes, use steam to work out the kinks without using any machines on the actual fabric. In a few minutes you'll be wrinkle- free and ready to deal with the really hard decisions, like what to wear on top of your undergarments!