Learn to Sell Yourself to a Future Employer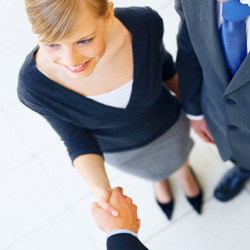 You can give anyone a run down on the latest season of Homeland, Net Neutrality or the Amazon vs. Hachette showdown, but yourself… that's a much different story.
What's Your Brand? Ten years ago you'd never compare yourself to a brand but in 2015, you need to do just that. You are your best (and only) salesperson. As a new jobseeker you must learn how to sell – regardless of whether you're looking to go into sales at all. Learn about your field, research the power players, study the startups and the Fortune 500 companies. Learn their language. Understand how your internship, school courses, life experiences and skills can help shape this industry. Once you can see how you belong in this job sector you'll be much more able to 'sell' yourself.
Own Your Story: As a recent graduate you might feel insecure about your lack of professional work experience and get a bit stumped when it comes to talking about yourself. You need to develop your professional elevator speech and learn to articulate your accomplishments and professional goals. There's no doubt that during every interview you'll be asked two classic job interview questions: "Tell me about yourself," and "Why do you want this job?" Master your answers for these questions. Instead of winging it, write a script. It could even been a few bullet points identifying volunteer experiences, coursework, presentations, leadership roles or even conferences you attended.
Get it on Camera: Have a trusted (but honest) friend set up a mock interview and record your responses. Ask for their constructive feedback and play back the tape. Pinpoint where you stumble as well as the sections where you flourish. The more you rehearse, the more confident you'll be in the interview. As for the other question, "Tell me why you want this job" is actually a trick question. The interviewer is really asking, "Why should I hire you?" For each job you apply for you're going to have to re-write your script and identify what the company's needs and wants are. You'll also need to showcase your skills and most importantly let your passion shine through. Showing energy, and knowledge about the company are two traits that will set you apart from the rest of the applicants.
This post originally appear on AOL Jobs.