What To Do With Leftovers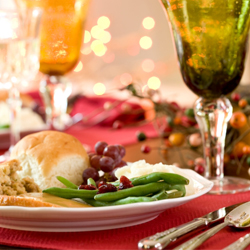 You've been sent home with a ton of turkey leftovers. Now what to do? You could re-live Thanksgiving again and again for the next few days. But there are more exciting things to do with all that food. Here are some ideas for inventive turkey-centric meals that don't need to be served with stuffing and cranberries on the side.
Turkey Tetrazzini
12 ounces spaghetti
6 tablespoons unsalted butter
6 tablespoons all-purpose flour
3½ cups low-sodium chicken broth
¾ cup cream
½ teaspoon salt
2 teaspoons minced fresh rosemary
1 tablespoon minced fresh thyme
¼ teaspoon nutmeg
Fresh ground pepper
3½ cups of roast turkey, shredded into small pieces
10 ounces frozen green peas
½ cup dried bread crumbs
½ cup grated parmesan cheese
1. Fill a large pot with water and bring to a boil. Add spaghetti and cook until al dente according to package directions. Drain, rise under cold water, and set aside.
2. Preheat oven to 375. Butter a 9 x 13 inch baking dish. In a medium pan over medium heat melt the butter. Add the flour and cook, stirring, until faintly colored, about 2 minutes. Gradually whisk in the stock until the sauce is smooth and thickened, 3 to 5 minutes. Whisk in the cream, then add the remaining ½ teaspoon salt, rosemary, thyme, nutmeg, and pepper. Stir in the turkey and peas and heat through. Taste and adjust the seasonings, then remove from the heat.
3. Put the pasta in the prepared dish and spoon the turkey mix over it. In a small bowl, combine the bread crumbs and the parmesan. Sprinkle evenly over the sauce. Bake, uncovered, until heated through and bubbly, about 20 minutes. Turn on the broiler and quickly brown the top of the casserole.
Serves 8. This dish can be made and frozen for up to one month!
Turkey and Wild Rice Salad
2 teaspoons olive oil
1 red onion, thinly sliced
4 cups cooked wild rice
½ pound leftover turkey, shredded
1 pint cherry tomatoes, halved
¼ cup chopped fresh parsley
8 sun-dried tomatoes, chopped
2 cloves garlic, chopped
3 tablespoons red wine vinegar
3 tablespoons balsamic vinegar
1 tablespoon soy sauce
5 tablespoons olive oil
1. Heat a small skillet over medium head and add the 2 teaspoons olive oil. When the oil is hot, add the onion and cook about 10 minutes. Set aside to cool.
2. Combine wild rice, turkey, tomato, onion and parsley in a large bowl and set aside.
3. To make the dressing combine all ingredients until emulsified.
4. Add the dressing to the rice mix and serve warm or at room temperature. Serves 4.
Turkey Chipotle Sandwiches
8 (1/2 inch) slices crusty bread
1 cup chipotle mayonnaise
8 slices roast turkey breast
4 slices pepper jack cheese
1 sliced tomato
4 large leaves of lettuce, washed
Chipotle Mayonnaise
2 whole chipotle chilies in adobo
1 cup mayonnaise
1 tablespoon garlic
½ cup chopped fresh parsley
¼ teaspoon salt
Combine all ingredients in a blender and blend until smooth. Will keep, covered for several days. Makes one cup.
Spread four slices of bread with the chipotle mayonnaise. Top each slice of bread with turkey, pepper jack cheese, tomato slices and lettuce. Top with another slice of bread and serve.