Life After Layoff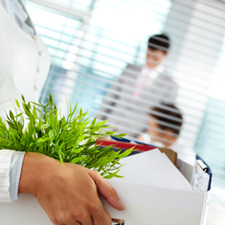 With thousands of workers losing their jobs and unemployment rates on the rise (6.1% as of September), layoffs are an all-too-real fear for many women. But it needn't be a career killer. These two women bounced back after getting the boot. When life gave them lemons, they made lemon martinis.
Stay positive. Regardless of the reason, losing your job can be a blow to your ego (not to mention your bank account). But it's also a chance to reevaluate your career and try out a new direction. Amy Richter, of Scottsdale, Ariz., has survived two layoffs. The first was in 2001 when the tech bubble burst, and the second was late last year as the mortgage industry faced increasing uncertainty. "If at all possible, see being laid off as an opportunity to do something else," she suggests.
Explore other options. If you've recently lost a job in the finance industry, why not consider switching sectors or starting a business? By branching out, you may discover less competition and more opportunities. After Amy left her job in the mortgage industry, she started researching medical and pharmaceutical companies, figuring that field might offer more stability. After digging around, she discovered several doctors in her area that "weren't running their practice as a business" and needed someone to help with marketing. Instead of working for one doctor as an employee, she pitched the idea of working for several of them as a marketing consultant. They agreed. "I filed my LLC paperwork [last December] and I haven't looked back since," she says. Since then, Connect-MD has grown to include graphic design, Web design, and several other marketing staff.
Seek out your support system. Friends and family can help you deal with the emotional sting of getting laid off. Amy credits her circle of friends with helping her find the confidence to go into business during an uncertain time. "I had a lot of people who were plugging for me," she says. "If you have that support and you can find that niche, go ahead and start your own company." Of course, friends and family can also be a good resource for career advice and opportunities if you let them know you're in the job market. When Mindy Rhiger, of St. Paul, Minn., lost her job as a young-adult librarian last April, her brother encouraged her to stay active in her field: "His advice was that gaps in employment are not a liability unless you didn't do anything with your time. Employers want to hire people with initiative." She applied to present at a conference for librarians, and by June, she had started a new job.
Optimize your online image. Employers are increasingly looking online for job applicants, so it helps to stay connected. Mindy beefed up her LinkedIn profile and looked for connections through the site. Like Amy, she was open to jobs fielding other industries. "I wanted to make sure that, despite looking outside of the field for employment, I would remain connected and hirable," she explains. "I had been blogging about books and libraries at Propernoun.net for several years, and I doubled my efforts in both posting and promoting." She found her current job at a science museum through an online job posting and says her library skills were easily transferable to the museum world. "I'm working with exhibits and concepts instead of books," Mindy explains. "And I've been able to use a lot of my library/publishing contacts in my work at the museum."