Lighten your Suitcase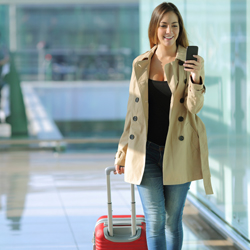 No one wants to be described as overweight, even if it's in reference to your suitcase and not your waistline. Unfortunately, on a recent trip to London, I was on the receiving end of that word when the flight attendant told me that my Samsonite exceeded the 50-pound weight allowance at New York's LaGuardia airport. Somehow, even with the best travel strategy, in the final moments before takeoff I packed on additional pounds by adding yet another black dress, impractical espadrilles, and yoga outfits to my already-overflowing bag.
Judging by the pages of Us Weekly and In Touch—which are filled with tiny Hollywood starlets lugging oversize Chloe handbags—it seems that I'm not the only one carrying extra weight. But it is possible to travel lightly without sacrificing style. Here are my tips for success:
Put your soles first. I can't go anywhere without packing at least three pairs of shoes: one for day, one for night, and a pair of sneakers or hiking boots. I always wear my heaviest shoes on the flight. The pairs that I pack I put inside each other on the sides of my bag. They become little bumper cars for my clothing.
Pack paperbacks. Reading material is another weighty matter. But instead of lugging the latest hardcover Harry Potter book, bring a paperback instead. Or bring a stack of magazines that don't need to make the trip home.
Avoid items that are "one and done." By this, I'm referring to the strapless evening gown that requires its own accessories—which don't go with any of your other outfits. Instead, bring clothing that can take you from day to evening simply by adding earrings or a bracelet. Also, make sure everything you pack has a dual purpose: I stow my makeup and jewelry in my evening bag.
Take inventory. When you arrive home and inevitably have to unpack, take a trip postmortem of what you did and didn't use on your travels. Always keep your bag stocked with essentials like travel-size shampoo, cosmetics, Q-tips, aspirin, and toothpaste. This way your bag will be ready at a moment's notice for your next adventure.