Live Well For Less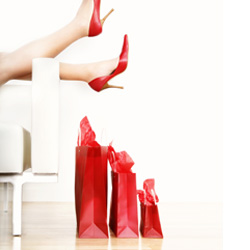 We're all trimming our budgets these days, which also means we're steering clear of any wallet-draining vices like a dieter avoiding a doughnut shop. And that's a shame, because that daily latte habit or weekend movie indulgence gives us something to look forward to during a stressful workweek.
Fortunately, there's no need to go cold turkey. You can still enjoy your vices—and save money—by changing your habits so that they'll cost less. Here's how.
A Cheaper Cup of Coffee
The best way to save on your morning coffee habit is to downsize it. Start ordering your drink in a smaller size and you'll save a chunk of change every day. Bring your own mug to snag additional savings. And, if you're a Starbucks addict, start paying for your drink with a preloaded gift card. A prepaid card helps with budgeting, and Starbucks gives users pricey add-ons like soy milk and syrups for free.
Happy-Hour Hints
It's hard to pass up a post-work nosh with your closest associates. To save in this category, consider turning your dinner dates into happy-hour get-togethers. You can still enjoy their company but will spend less on the same food and drink you'd sample come dinnertime.
A Whittled Wine Budget
If you pour a glass (or two) of wine to unwind after work, you know that a nightly wine habit can quickly drain a bank account. The irony here is that you can save on wine by buying more of it, or at least more of it at once. When you purchase a case of wine (typically 12 bottles) instead of individual bottles, most grocery stores, wineries, and bottle shops will give you a discount of 15 to 20 percent off your purchase.
A Budget-Friendly Blowout
When you're polishing your professional image, salon bills add up—especially if you insist on frequenting a high-end salon. The key to saving money and looking good is to put your faith in a local beauty school. Beauty school students can cut and color your hair and perform other salon services for a fraction of the price a big-name salon does. If you're worried about working with a novice, ask for a senior student or have their instructor nearby during your appointment.
Fine Films for the Frugal-Minded
Weekly trips to the theater are a big budget buster, but not everyone is willing to save money by watching blockbusters on their television at home. Find a middle ground by locating a second-run theater in your neighborhood. You'll have to wait a few weeks (or months) before the buzzworthy movies arrive, but your ticket price will drop drastically for the same experience the big-chain cinemas offer.
Wallet-Friendly Reading Material
If you can't pass the grocery-store checkout without grabbing a glossy, it's time to order a yearly magazine subscription. Or, join a service like MAGHOUND that delivers subscribers a selection of magazines each month for a set price. Finally, try the library, where you can check out back issues and novels from your favorite author for free.