Make the Most of Your Commute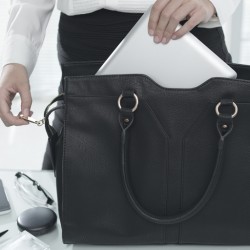 Stuck in traffic or squeezed onto a crowded bus twice a day? Yup, commuting can start or end your day in frustration. But a long commute doesn't have to be a killer. In fact, a well-planned trek can actually boost your spirits and your career. Here, four ways to make the most of your commute.
Be prepared. Whether you're walking, driving, or taking the train, there are a few essential supplies to have on hand. First, always make sure to have a stash of healthy snacks. It's easy to be tempted by drive-through coffee shops or fast-food restaurants, but a small bag of nuts or dried fruit, along with a bottle of water, will fill you up until you can eat a real meal. Also, if you have an iPod, make sure it's fully charged and be sure to bring the headphones. For your car, an inexpensive transmitter will allow you to listen to your MP3 player through your stereo. If you're on public transit, bring a novel or magazine in your bag. And no matter how you travel to and from work, always bring a small notepad, because you never know when the perfect idea will strike for your big presentation.
Climb the ladder. Utilize your iPod for more than Ariana Grande's latest single. Download business-savvy podcasts to learn about new trends in your industry, or find speeches by professionals you admire. Check out an online podcast directory to quickly search for what you want. Have you listened to Serial yet? Or listen to Ted Talks. Need a mental break from work? Try downloading a new novel or a conversational French tutorial.
Collect cocktail-party ammo. Spend your drive catching up on the news. Being in the know about world politics and finances will provide small-talk fodder at that charity gala or after-work happy hour. Instead of listening to your favorite mixes or radio station, flip on a news station like BBC or NPR to hear all the headlines. When you know what's going on around the world and in the global economy, you'll be able to strike up a conversation at any event.
Zone out. Think of your commute as interruption-free time. You just wrapped up another frantic day. You're walking through a crowded sidewalk, sitting in traffic, or jammed against the bus window. This is not the time to pull out your cell and return calls. In fact, turn off your radio, iPod, cell phone, or PDA. Use this time to focus on yourself. Clear your mind. Take several slow deep breaths, and forget the little stressors of the day. Without distractions like a ringing cell phone, thoughts often crystallize and new ideas emerge.