Make Your Lunch Hour Count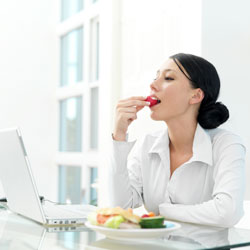 As your inbox floods with requests from co-workers and reminders about deadlines, it's only natural to be tempted to scarf a Lean Cuisine at your desk rather than leave the office for lunch. And you wouldn't be alone—three-quarters of Americans eat at their desks at least a few times a week. (I admit it—I'm among them!)
But guess what? You're not doing yourself any favors by skipping your lunch hour. Not only is eating at your desk unsanitary, it also deprives you of much-needed fresh air and human interaction. There may still be times when you need to work through lunch to meet a deadline, but on days when your load is lighter, try using your lunch to:
Try out a new restaurant. Gather a few co-workers and check out that new sushi joint you saw on Daily Candy. You'll have an excuse to leave your desk and an opportunity to see your co-workers outside of their cubicles. Or if you can't stand your colleagues, invite a friend who works nearby or dine solo with a favorite book or magazine. It'll get your mind off of balancing your department's budget or dealing with a demanding client.
Take a hike. You may not have a nature preserve outside of your office, but you can explore the urban jungle around you. This time of year it's often dark by closing time, so a quick midday walk is the perfect way to get some sun and clear your mind so that you'll be more productive after lunch. I have a friend who is so busy working full-time and caring for her son that our walks are often the only time we have to catch up.
Get physical. If it's too cold to comfortably walk around outside, hit the gym instead. Many gyms offer shortened classes for the lunchtime crowd, and some companies even bring in yoga instructors to help employees relax and refocus during lunch. If you'd rather not rush through a workout, you could always treat yourself to a 15-minute massage at a local salon on a particularly stressful day. You'll return to your desk relaxed and refreshed for the afternoon ahead!