Make Money Freelancing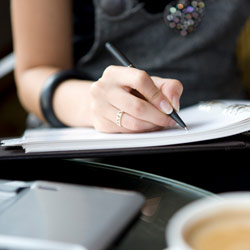 I wish I had a dollar for every person who's asked me, "Do you make a living with your writing?" The answer is yes, and, as with many self-employed people, I'm happy to say that I make a very good living. Whether you are a freelancer, small-business owner, consultant, or contractor, it is possible to be financially successful. But it won't happen through luck; you have to make it happen. Here are some tips.
Start on the side. While many people dive headfirst into freelancing, there is no shame in keeping your day job while you build your own business. This is a great way to hang on to your health insurance, 401(k), copy machine, and sanity, among other perks. You can start your freelancing business at night and on weekends until you feel ready to go off on your own 100 percent. In my case, I worked full-time, then three days a week, then two days a week before going entirely solo.
Act like a business. Even if you are the best writer, designer, photographer, or widget consultant in the world, you won't make money if you don't think of yourself as a business. All aspiring freelancers should take a small-business course or read a few books on bookkeeping, tax requirements, marketing, and other essential business topics. Mediabistro.com offers online courses for freelancers, and I recommend the book Six-Figure Freelancing by Kelly James-Enger (Random House; $14.95) for aspiring freelance writers.
Build a professional website. My writing and speaking fees doubled when I launched my website. Yes, anyone can put up a site, but if you don't have an online presence, potential clients won't take you seriously. Build a website that looks like the website of a highly paid freelancer and you'll have much more luck becoming one. Not sure what that looks like? Visit the websites of successful freelancers and follow their lead.
Befriend other freelancers. Isolation is one of the biggest challenges of freelancing, so be sure to include networking and camaraderie in your business planning. The best way to learn how to become a successful freelancer is to meet other people who are doing it. Ask freelancing friends if they'd be willing to share some strategies with you (in particular, see if you can get some insight on setting fees), and join some freelancers' associations to gain even more insight. The Freelancers Union often hosts seminars on this topic, as does the American Society of Journalists and Authors.
Tap into your personal network to build your client base. One of the best ways to get clients is to start marketing to the people who already like and trust you—your friends and family. Spread the word about your new freelancing business. This may require offering your services free of charge for a while, but once people see how talented you are, they are sure to recommend you at your full rates.
Build additional revenue streams. In addition to your bread-and-butter work as a writer, designer, artist, consultant, or whatever else, think of other ways to generate income. Speaking at conferences, colleges, and professional associations is a natural extension, as are coaching and consulting. Again, ask other successful freelancers what ways they earn money.
Specialize. While it may seem that you'll get more business if you cast a really wide net, it's been my experience that people want to hire experts—and will often pay them more. It is often more lucrative to promote yourself as the expert in one area, such as health and wellness writing, children's photography, or small-business coaching, rather than being a generalist.