Meals That Last a Week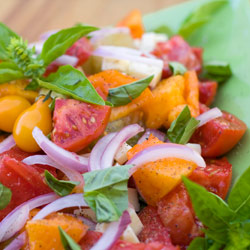 When you work 14-hour days, it's no wonder you don't feel like cooking when you come home. But while takeout is quick and requires little cleanup (open up trash can, insert container), a constant diet of fast food can make your waistline bigger and your bank account much, much smaller.
The key to healthy meals is preparing them in advance. If you spend a couple of hours cooking on Sunday, you can have food for an entire week. And no, we're not talking about the same old chicken and potatoes every night. Here, we took one chicken, cooked it, and came up with six different ways to eat it. It doesn't get much simpler than that.
Shopping List:
One whole chicken
1 package Whole-wheat tortillas
1 box brown rice
1 8-ounce can of black or pinto beans
1 head of romaine lettuce
4 tomatoes
A jar of mango salsa
1 16-ounce container of sour cream
1 package (or can) of corn
1 cucumber
Mozzarella cheese
Cheddar cheese
Parsley
A bottle of ranch dressing
Olive oil
4 whole-grain rolls
1 small bunch of cilantro
1 large onion
A bottle of barbecue sauce
One broccoli stalk
3 carrots
A bottle of Caesar dressing
A box of croutons
Parmesan cheese
One package pita bread
Sunday: Chicken Burritos
Preheat oven to 350 degrees. Clean chicken, rub in salt, and bake for 2 hours or until no longer pink.
For the rice: Boil 4 cups of water. In a separate pan, lightly fry 2 cups of rice, ½ onion chopped, and ¼ cup chopped cilantro in 2–3 tablespoons of olive oil for 2–4 minutes. Pour rice mixture into boiling water, turn down the heat, and cook rice for 35–40 minutes or until done. Add the can of beans to the rice 5 minutes before removing the rice from heat.
When chicken is ready, cut and shred. Layer ingredients on a tortilla with rice and beans, lettuce, tomato, mango salsa, sour cream, corn, and chicken. Garnish with remaining cilantro.
Monday: Chicken Quesadillas
Continue the Mexican fiesta, only this time, layer one whole-wheat fajita with chicken and cheese. Top with another fajita and bake in the oven at 350 degrees for 10 minutes, or until the top is lightly browned and the cheese has melted. Top with lettuce, sour cream, and salsa.
Tuesday: Chicken Salad
Take 3 cups of lettuce and pour in a bowl. Add a ¼ cup shredded chicken, a few tomato wedges, cucumber slices, and ¼ cup of cubed cheddar cheese. Serve on a whole-grain roll with a teaspoon of ranch dressing.
Wednesday: Chicken and Mozzarella Panini
Follow the same instructions as Tuesday's recipe, only this time, substitute the cheddar cheese for mozzarella, and use balsamic vinaigrette and parsley in place of the ranch dressing.
Thursday: BBQ Chicken Sandwich
Add ½ bottle of barbecue sauce to a pot and simmer lightly for a few minutes. Add shredded chicken and continue to simmer for 20 minutes or until chicken is warm. Place chicken on a whole-grain roll and serve with a small side salad using the remaining vegetables from your shopping list.
Friday: Chicken Caesar Salad
Add remaining shredded chicken to a bowl of romaine lettuce. Add grated parmesan cheese, croutons, and Caesar dressing. Serve with warm pita.
Saturday: Go out to dinner. You deserve it!