Natural Deodorants That Really Work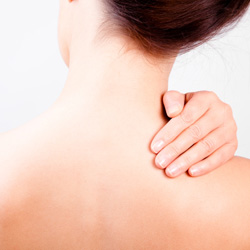 Nothing torpedos a powerful presentation like pit marks. You know, those unsightly sweat stains that appear underneath your arms when you're nervous, overheated, or both. But we don't blame you. The deodorant you bought bragged about its all-natural ingredients. You read the label expecting your aloe-filled pores to smell like a Provence lavender field while you pounded the pavement from meeting to meeting. So, how come you smell like a pre-pubescent teen with a nasty case of B.O.?
The answer is that all deodorants are not created equal. But it is possible to find a brand that prevents perspiration without the use of harmful chemicals like aluminum and propylene gycol. Some studies have found a link between Alzheimer's disease and aluminum. A 1993 World Health Organization "Public Health Report" cited autopsies that found high concentrations of aluminum in the brains of those afflicted with Alzheimer's disease. Propylene glycol is a form of mineral oil. It is also used in automatic brake and hydraulic fluid, and industrial antifreeze. The Material Safety Data Sheet warns users to avoid skin contact with propylene glycol as this strong skin irritant can cause liver abnormalities and kidney damage. And you're rubbing it all over your pits.
So what to buy? No worries. The gals at Healthy Bitch Daily sweated it out for you, and guess who came up smelling like a bed of roses? These picks are free of aluminum, parabens and propylene glycol:
LaVanila Healthy Deodorant. It's 100-percent natural and fights odor with powerful antioxidants, antibacterial agents, active botanicals and essential oils. It's a bit on the pricier end, but it's better than sporting smelly, pit stains during a client pitch in the conference room. Go Vanilla nutso with Vanilla Grapefruit, Vanilla Coconut, Vanilla Lavender, Vanilla Grapefruit and, of course, Pure Vanilla. ($18; Sephora.com)
Hugo Natural Dual-Action Formula. Not as glamorous as LaVanila, but definitely kept us dry and happy throughout most of the work day. Do keep in mind the stick glides on a bit chalk-like, but you'll smell like a flower garden. For those who tend to sweat more, you may need to apply twice a day. ($5.35, Vitacost.com)
Nature's Gate Lavender & Aloe Deodorant Stick. This pretty stick actually has organic essences fresh from a field locally grown in California. It boasts baking soda to help neutralize odor. We didn't omit any bad body odors, but strange ones? Maybe. Nature's Gate tends to carry a scent similar to household cleaners. Probably best for those who don't sweat during a status meeting. ($5.99; NaturesGate.com)
Make your own natural deodorant. Mix equal parts cornstarch and baking soda and a few drops of your favorite essential oil in a glass jar. Pat on with a washcloth. Like a spray deodorant? Try combining 1/4 cup witch hazel, 1 tablespoon glycerin and a few drops of essential oil into a small spray bottle. Works like a charm.
Don't sweat the small stuff. You've got it figured out.