What You Need to Know About China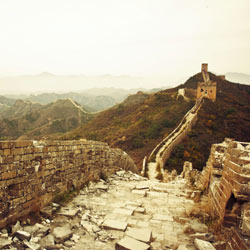 What you need to know about China is that, as an ambitious businessperson today, YOU NEED TO KNOW ABOUT CHINA.
According to Ted C. Fishman, author of China, Inc., "China sews more clothes, stitches more shoes and assembles more toys than any other nation. It has become the world's largest maker of consumer electronics, pumping out more TVs, DVD players and cell phones than any other country…[China] has ascended the economic development ladder higher still, moving quickly and expertly into biotech and computer manufacturing."
China's importance to the world economy will only grow as technology improves and the People's Republic continues to open up to foreign investment. Now is the time to learn more about the country's economy, culture, etiquette and politics. Here are some ways to get started:
Keep Current
Watch the BBC, CNN, or the China Network, and read publications with strong international business coverage, such as The Economist. Another great idea is to set up a Google news alert with the keywords "China" plus your industry or topic of interest. Then you'll get relevant news sent right to your email inbox.
Be a Joiner
Attend a meeting or sign up for the newsletter of an organization such as the Asia Society, the Asia Pacific – USA Chamber of Commerce (APUCC), or the Asia-Pacific Council of American Chambers of Commerce (APCAC). This will keep you in tune with your local business community's ties with China.
Reach Out
Make connections with Chinese students and businesspeople through professional associations or online. LinkedIn and Facebook are all great places to search your networks to meet people from any country, including China (without the pain of a long-distance phone bill!). Real people are always the best source of information and understanding.
Hit the Bookstore
Some helpful books to give you an understanding of China and its growing role in the international economy include China, Inc.: How the Rise of the Next Superpower Challenges America and the World by Ted C. Fishman and Living With China: U.S./China Relations in the Twenty-First Century by Ezra F. Vogel.
Every little thing you learn about China is likely to come in handy someday—probably sooner than you think.