How to Network in a New Town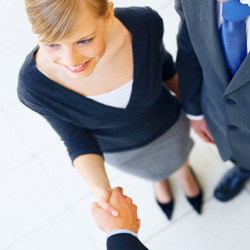 You know the saying "Make new friends, but keep the old"? Well, when you're feeling lost and friendless in a new city, you'll be tempted to convince yourself that it's A-OK to just keep the old. Who needs new friends when you can e-mail, instant-message, and spend hours on the phone with the ones you already have? Plus, you work long hours and have a full DVR waiting for you at home…happy hour, shmappy hour.
Not a good game plan, sister! As scary as it may be, you have to step out of your comfort zone and put in the effort to build a social network. Start by e-mailing friends and acquaintances to find out who they know in your adopted home. Many of your friends will pull college friends, old co-workers, and long-lost cousins out of the woodwork. Before you know it, you'll have an Excel sheet full of "potential friend" contact info. Then follow these tips.
Make a move. Once you get settled (i.e., you stop going to the wrong apartment and trying to unlock the door), reach out to your potential friends. And since you're the new kid in town, make sure you ask them for the best takeout in your hood, where to get a good manicure, and how to find a decent dry cleaner.
Get it together. Yes, first-time plans will feel like a blind date. You are going to want to woo these people and prove to them that you're interesting, funny, cool, and totally deserve "date No. 2." But keep the pressure off. You're not in ninth grade (thank goodness you don't still have those bangs!), and no one's judging you. If the tables were turned, you would eagerly help someone get acclimated in unfamiliar territory.
Befriend your office buddies. Your new job is also a great place to make friends. Co-workers will gladly show you the ropes over an after-work cocktail. Just don't complain about your boss. Staying out of office gossip is always a safe bet, especially for a newbie.
Be open-minded. The only boots you own are suede with three-inch heels, but everyone goes hiking on the weekends! What do you do? No matter where you live, it's important to be open to trying activities that may be foreign to you. Who knows, you just may trade in those Tory Burch flats for Timberlands soon enough.
Pace yourself. You don't need to have plans every night of the week. And you certainly don't need a group of instant best friends. Just focus on learning your new city and experiencing what it has to offer, which is always easier to do with people that actually know! Through these "friend dates," you'll venture to undiscovered neighborhoods and figure out how to take public transportation to get there (a win-win!).
Just envision the day a few months from now when you have a yoga buddy, a crew of co-workers for after-work drinks, a foodie friend who invites you to the best restaurants, and a phone packed with new numbers. You won't have time for that full DVR…