How to Network Professionally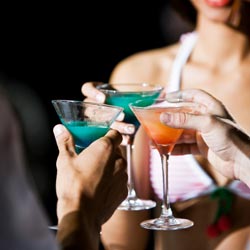 By the time we arrived at the swanky new downtown bar, it was already buzzing with young, attractive professionals chatting over wine and cocktails. My friend Laura, who worked in PR, was greeted almost immediately by a "Cute Tech Guy" offering to buy her a drink. Laura might have been flattered by his interest, but she wasn't there to pick up men. This was a networking event, after all. As one of the youngest people in her office, Laura hoped to meet other professionals in her industry and maybe find a mentor.
ute Tech Guy had other plans. He told her he'd met "like three of my previous girlfriends at these things." Judging from the way he leaned into her, I could tell she was his next target.
Laura already had a boyfriend but didn't quite know how to tell him. "It's awkward. He's obviously here for a reason but what do I say? Back off?"
I watched as the two exchanged business cards. When he emailed her a few days later to invite her to a bar, Laura wrote back saying she was off the market.
This situation, while uncomfortable, is not uncommon. With longer hours and less time to date, many of us are left wondering where to draw the line the between personal and professional behavior. Here are few tips to keeping the focus on business.
Do lunch or breakfast instead. Meeting a new contact during the day sends the message that you mean business. "It's daylight, it's bright outside, its not at all romantic," says Rachel Solar, author of Table Talk: the Savvy Girl's Alternative to Networking "[Your intentions] are crystal clear over breakfast or lunch." You could also suggest that both of you bring along another colleague to build up that Rolodex and ward off any awkward first-date feelings.
Make mention of your significant other. Doing so clears up any mixed messages and doesn't have to cause a major tangent. "If you're with someone, just slip it into conversation," Rachel suggests. Here are a few examples: "You went to NYU? So did my fiancé. " "My boyfriend is a huge Mariners fan. Did you catch the game last weekend?" "I just told my husband about this article from The Wall Street Journal…" See, you can demonstrate your knowledge of current events and your relationship status all in one simple sentence!
Be aware of body language. As Rachel says, "my personality is very warm, so I can see how someone could misconstrue that. If you want to make a professional first impression, don't initiate physical contact after the handshake and don't use "come-hither" looks or twirl your hair.
Dress the part. Some young women (including, at one time, yours truly) dress for happy hour as if they're hitting the bar for a weekend girl's night out. "If you end up going to a cocktail event for networking, don't show cleavage," advises Rachel. "We all have that suit and jacket ensemble that is flattering, but still business-appropriate, and now's the time to wear it." Got it, ladies? Save the stilettos for Saturday night!
Most of all, be direct. "Men are very comfortable asking directly for what they want," Rachel says. "Sometimes as women we have difficulty with the hard-sell." However, offering specifics ("I need someone with a background in web design" or "I'm trying to build our health care practice") yields better results and fewer mixed messages.