Office Moving Made Easy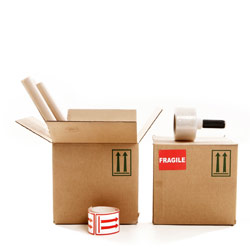 Hate moving? Me, too. It seems like every time I get my apartment set up just the way I want it, my lease is up and it's time to move again. Ditto on my office. Just when I devised a filing system that worked for me, my company announced that it was relocating to a bigger, better office space. It was stressful, but at least this move didn't involve dragging a futon up two flights of stairs. If you're about to undergo an office move yourself, check out these tips for staying on top of things.
Trash old files and paperwork. Check with the appropriate department and make sure you're not legally required to keep backups of résumés or medical records, then toss items you know you don't need (or scan them instead). If anything is confidential, be sure to shred it first.
Keep your contact info current. Your company will usually handle an address change through the post office, but you'll probably want to alert your major clients and vendors. Add a note in bold and/or italics on your e-mail signature to indicate when your new address goes into effect.
Go digital. If you don't already have your calendars and to-do lists set up online, now's the time to do it. While your colleagues are sifting through boxes trying to find their wall calendar and Post-its, you'll be casually ticking off items on your computer or PDA. Don't forget to back up all your files and print a list of essential contact numbers and e-mails in case anything happens to your computer in transport or you can't set it up right away.
Purge the personal items. When I left my first job, cleaning out my desk was like an archaeological dig through 18 months of notes, pictures, and paperwork. Take all these items home and see if you actually need all that stuff in your new office.
Label carefully. If you're packing your own boxes, you'll want to be as descriptive as possible in labeling them. Five boxes generically labeled "Zoe's files" will leave you scratching your head, but labels like "Media Archives, 2012–2014" or "Zoe's Files, A-Ch" will help you find things later. Also make a list of how many boxes you have and their contents in case anything gets lost (most likely it will resurface in someone else's office).
Coexist with chaos. Even if your company hires relocation consultants and carefully maps out the new office space, there's bound to be a little bit of disorganization. Try not to set deadlines or major meetings to coincide with the move (unless they'll take you out of the office and to some other exotic locale).
Now comes the fun part…decorating your new digs!