Office Parties on a Budget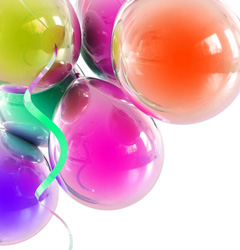 This year, the usual hubbub surrounding holiday parties has been replaced by hushed whispers coming from employees who wonder if they're even having a party. But in these poor economic times, it's even more important to hold a holiday party; they boost morale and give a nod to co-workers and staff for a job well done. Fortunately, it's possible to throw a holiday office party without breaking the bank. If you're the designated party planner, part of the planning team, or the head honcho, follow these tips on hosting a memorable, budget-friendly bash this year.
Downsize the details. If you usually reserve a banquet or ballroom in a fancy hotel, look into alternative options this year. Community centers or nonprofits often have less costly spaces available for public event rental. You might have to spend some time researching local options to find a good substitute for tried-and-true locations, but it'll be time well spent if it cuts your party expenses. And if you simply can't bear to plan the party anywhere but the ballroom of a four-star hotel, ask for a discount. Plenty of places are cutting rates this year in hopes of filling their calendar with events in a slower-than-usual season.
Party where you work. Consider the idea of holding the party at the office either during or after the workday. Look carefully at the spaces you have available, and use your imagination (or the help of a creative co-worker) to visualize just how great a conference room will look once you dress it up. If you go this route, do find out the company policy for on-premise parties before you start the party prep.
Host a potluck. Caterers provide tasty, time-saving party-planning services, but if you can't afford one this year, think about tapping into your co-workers' culinary talents. Just pass around a signup sheet to make sure you'll have a well-rounded selection of appetizers, entrées, salads, and desserts. Then, provide the plateware and beverages to accompany the delicious homemade spread come party time.
Don't serve alcohol. True, a glass of champagne is a great way to toast the year. So is opening an expensive bottle of wine. But these options are also budget breakers. (Not to mention career crushers when you say yes to a fourth glass.) Swapping sparkling cider for champagne or serving tasty mocktails in place of cocktails can slash the party costs; just offer something more interesting than bottled water as a sipping option.
Think outside the party. The true purpose of the holiday party is getting co-workers together to enjoy each other's company. That said, you could take the "party" in an entirely different direction by organizing a new activity altogether. Some companies have made a tradition out of volunteering together for a local charity or people in need. Others organize an outing that fits their staff's personalities—sports-related companies might go off for a day of skiing together, while food-focused companies might head to a wine-tasting event. Do your homework and you'll find that these fun events can be more economical options than throwing a big bash, and equally fun ways to celebrate the season and year's worth of hard work. Now, that's a concept worth toasting.