Office Party Slipups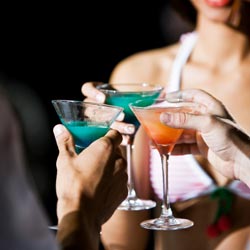 'Tis the season for office holiday parties—the time of year when you can pretty much count on two things: reputations being ruined and gossip running rampant. Don't be the one to fall victim this time around. Here, eight office party slipups to avoid.
Pickup lines. Outrageous in-your-face flirting with colleagues is prohibited. So is PDA with your significant other. If your libido's lit up, make after-party plans so that you can take your game to another location—one with no sexual-harassment clause.
Letting the girls hang out. No matter how casual or club-like the venue, revealing clothing isn't going to fly. Err on the side of sophistication and adhere to the rule of one: Have only a single sexy element to your look (bold red lips, a skirt with a slit up the back, higher-than-usual heels).
Sucking down shots. What is it about that feeling of tossing back your neck, slugging down a SoCo and lime, and wiping your dribbles with your sleeve that makes you throw all inhibitions to the wind? You know by now that a night involving shots never ends well. Stay away, no matter how severe the peer pressure you're facing. Limit yourself to three drinks max and then switch to club soda.
Buzz-kill banter. Even if you can't get enough of your job, chances are others can. It's time to put office talk to the side and let people enjoy a night of no expectations. Use the party to get to know your colleagues on a friendlier level. Stick to upbeat, uncontroversial subjects.
Uninvited guests. Get clearance before you think about bringing your significant other or a few friends. And, even if you've got the green light, you might want to check with other people to see if they plan to bring a guest. It could reflect poorly if you're the only one strolling in with an entourage. If you do decide to bring a plus-one, pick strategically. You don't want to feel pressured to hold their hand all night, and, if they drink too much, you're guilty by association.
Four-letter words. Just because the atmosphere has changed, you can't assume the level of formality has. Keep it classy, cussers.
The premature goodbye. It's just one of those cruelties of life. You're obligated to stay at the office party until at least 10 minutes after the first person leaves (and it doesn't count if they have a family emergency). Jetting early will leave people jealous, which never fares well in career.
Sticking to the clique. Regardless of whether you can't stand most of the people you work with, you've got to suck it up and be social. Staying by the sides of a few trusted allies will look suspicious. Besides, if you do a lap around the room you may catch a few juicy tidbits from others with loose lips. Now, there's an incentive to stay sober.