Perfect Your Profile Photo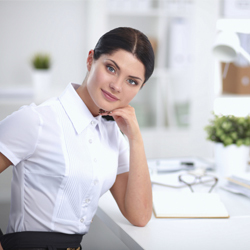 Whether it's for your LinkedIn Page, a passport, a business card, or a work ID, a tiny headshot is rarely the most flattering of photos. And unfortunately these pictures tend to hang around for a long, long time. It may seem like, short of booking Annie Leibovitz, there's nothing you can do to make them any better, but that's where you're wrong. With a few simple tricks you can make your next headshot look hot.
Invest in a classic. It might seem a little over-the-top to invest in a new outfit just for a headshot, and for the most part it is. But investing in one classic top is not. Headshots tend to show only from your chest or shoulders up, so make sure that whatever you're wearing on top has classic lines, is a neutral color, and covers up everything that needs it. Avoid patterns and prints and try to stay away from high necks. Depending upon your industry, blazers, twin sets, and V-neck sweaters are always safe bets.
Nix the glitz. Headshots are not glamour shots, so put away the hairspray and glitter. Instead, style your hair simply and make sure that it isn't hanging in your eyes. Keep your makeup muted and wear understated jewelry. And, for Pete's sake, if you have glasses, wear them! If you take them off, not only do you run the risk of looking like a mole, but no one will recognize you anyway.
Perfect your posture. If you've been asked to take a photo for work, chances are that there will be at least a semiprofessional photographer involved who will give you a few tips on how you should be sitting. If you're all on your own, don't panic. Remember to keep your shoulders relaxed (to avoid looking hunched up) and your chin slightly tilted (to avoid a double chin). Angling your head slightly to one side will also help you avoid an unflatteringly full view of your face.
Smile. Unless you are specifically told not to, smile. Not only does smiling relax your face and eyes, but it adds visual interest to the resulting photo that will help deflect attention from your roots, wrinkles, or other perceived imperfections. Just make sure that you've brushed and flossed before your shoot to avoid any surprises. And as for that silly tradition of saying "cheese"? Go ahead and give it a try—the word itself stretches your mouth into a flattering smile.