Personalize Your Work Space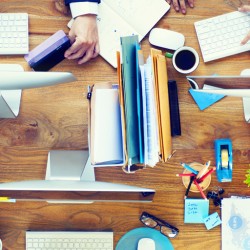 If you're spending the majority of your waking time at your desk, your office should reflect your personality, not the bland corporate culture of your company. If all you have on your desk is a screensaver with fish on it, here are a few tips to help you introduce a sense of self into your workplace.
Do up your desktop. If your computer screen isn't visible to the entire office, there's no harm in decorating it with a photograph that makes you smile or de-stresses you, whether it's a shot of the beach you visited on vacation or a picture of your boyfriend. Skip the Kodak moments of you and your girls downing tequila shots at the last Ladies Night. You never know who will see it when they come by to drop something off on your desk.
Go green. Whether your office is minimalist, modern, or decked out in wall-to-wall oak paneling, plants and fresh flowers will make a welcome addition. Having a green, healthy plant on your desk not only brightens up your space but also soothes tired eyes. Plants play an important role in increasing oxygen content, so make sure you have one near.
Rely on words. Pinning up your favorite inspirational quotes will motivate you each morning as you begin your day and keep you going throughout the week. Purchase an inexpensive calendar that contains a quote on each page. If you can't find one to suit your style, make your own calendar out of quotes you've cut out of magazines. For a calendar template, log on to SmartDraw.com.
Update the basics. If you use an external mouse for your laptop, find a mouse pad that reflects your personality. Funny, inspiring, or elegant—look out for an attractive one that will motivate you as you work.
Let your cup runneth over. A bright, funky cup brightens up any desktop. Don't drink java? Use your bright cup for water, to store pencils, or as a plant holder. Caffeine or not, it'll still cheer you up.