The Power of Intuition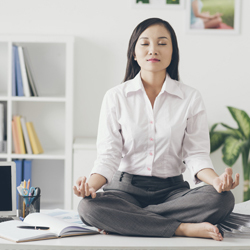 Several years ago when Isabel Gonzalez, 35, was an entry-level producer at the Cartoon Network, a plum opportunity landed in her lap. She was offered a job at CNN, working for a woman who had shaped the careers of rising stars, including Katie Couric. At the same time, Gonzalez had started writing a small nightlife column for a local paper in Atlanta-a gig she really enjoyed. When she told a local editor about the CNN offer, the woman promptly responded by offering Gonzalez a position at her magazine. "I was completely torn as to what to do," recalls Gonzalez. "But my gut told me I'd have more fun and more future in magazines." She was right. Today, Gonzalez is the editor-in-chief of Tu Vida, a national magazine for affluent Latina women.
Could Gonzalez have been the next Katie Couric? Perhaps. But a little voice inside her told her that print journalism was the path to take. That voice is called intuition. "Intuition is really the truth of who we are," says Darlene Van de Grift, a counselor and kinesiologist in upstate New York. "But people have a hard time trusting their intuition because the 'what if?' gets in the way. We have to stop thinking about the what if, and go with what feels right."
That's what Megan Meier, 24, of Chicago did. Two years ago, she landed a job at one of the largest PR firms in the world "working with amazing clients and team members," she says. But then she met a freelance publicist who noticed Meier's knack for media relations. She suggested that Meier could go out on her own-an opportunity that would allow her to work with a variety of different media outlets and make her own schedule. "I ultimately knew I'd like to freelance, but I didn't think it would happen so soon," says Meier. "But I figured I'd give it a whirl. I could always go back to agency life if that's what my gut said." Today, Meier is loving the freelance life, and still able to afford to eat and pay rent. "I work for small and large firms and I love what I do. Now I look forward to each opportunity that comes my way."
While for some people, intuition is an inner voice, it can also manifest itself in your other senses. "Some people can just look at something, and know they don't like it," says Van de Grift. Others feel it throughout their entire bodies. To tap into your own intuition, Van de Grift suggests taking a set period of time, say three months, to really listen to your feelings. "In every situation you have a feeling about something," she says. "Training yourself to listen to that feeling helps you become used to this other voice inside of you."
I have my own trust-your-gut story. I had been ignoring my inner voice for a long time. What finally got my attention was the awful pit I had in my stomach while walking to work every morning. I was on staff at a national magazine-my dream job-and I was absolutely miserable. It was a scary feeling because my identity was so closely tied to my work. But then I realized it was the office that I dreaded-not the work. I still loved to write. I've loved it since I was eight years old. So I decided to get rid of all the negative forces and focus on what I really enjoyed doing. I took a huge risk and quit my job (bye-bye, benefits) and became a freelance writer. Now, seven months later, I can honestly say it was the best decision I've ever made. While the freelance life does bring with it some uncertainty (if I don't work, I don't get paid), the freedom to work on the stories I want to and make my own schedule is completely worth it.
"A lot of times your intuition may be telling you to do something you're not sure you want to do," says Van de Grift. "But you have to trust that your inner wisdom knows better." Mine certainly did. I bet yours does, too.