Is your Profile Buzzworthy?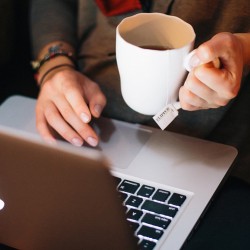 Are you an expertly organizational, innovative driven Professional? Do you just so happen to be strategically, innovative and possess creatively effective and patient qualities? Join the team. If your LinkedIn profile includes those words you aren't alone. LinkedIn recently pulled data from over 259 million profiles and filled us in which words made their annual Buzzword list. Rounding out the Top 10 include: Responsible, Strategic, Creative, Effective, Patient, Expert, Organizational, Driven, Innovative and Analytical.
How can you stand out from the sea of driven, innovative, patient professionals?
Show and Tell
The trick to beating the buzzword game is to actually convey what makes you buzzworthy. We're all "responsible" but what have you done that really sets you apart? Did you work after hours to ensure an event would be produced expertly? Or schedule a last minute meeting to solidify a potentially lost business deal saving your revenue?
Buzz-wordy Before Resume
-Analytically research marketing trends
-Strategically measure website traffic
-Creatively collaborate on advertising techniques
-Effectively problem solve during high pressure situations
-Patiently work with high profile clients
-Expertly exhibit innovative knowledge about the marketing industry
-Organize internal data and share with team at bi-weekly meetings
-Research trends in a highly driven manner
Buzz-worthy After Resume
Analytically: Ability to study trending topics enhanced company to be part of the national conversation. Ex. Was able to have our CEO weigh in on the Amazon Drone program via a quote in the Wall Street Journal which garnered 15K page views
Strategically: Improve website performance by increasing traffic 10% in the last quarter
Creative: Enhance companies profile and profit with consumer marketing events. I.E. Created a pop-up shop in Grand Central Station that attracted over 1500 signups and generated 18K in gross revenue
Patient: Expertly exhibit calming aptitude to problem solve in demanding situations. I.E Producing an event for 500 people a week's timeframe
Expert: Featured panelist and keynote for marketing industry events like Marketers of NYC, Summit 2013, NYU Marketers of the Future
Innovative/Driven: Propelled companies insight by creating webinar series given by Executive Board
What are you waiting for…ramp up your Profile today!