Proving Yourself In a New Job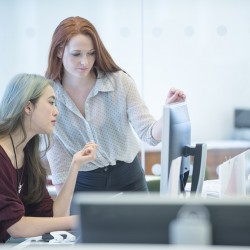 Congrats—you've managed to snag a great new job in spite of all the economic doom and gloom. But now you've got to work hard to exceed the expectations of the company—and person—who hired you. How far (and how low) should you go to prove yourself in a new job?
Proving yourself to be competent, confident, and trustworthy will take a little time. After all, aren't you slightly skeptical of new co-workers until they've had a few weeks to learn the ropes? But there are a few things you can do to make sure that your new office mates are raving about you as soon as possible.
Ask lots of questions. Yes, this can get annoying for you and for the people you're grilling. So before you ask, think a bit to make sure you haven't covered the information in another conversation. Also, make sure to query the right person—ask co-workers about projects or logistics and your boss or HR about benefits, vacation, and other policies.
Know what's expected of you. Be sure that you have had several detail-oriented conversations with your boss in which you discuss your position, who you'll work with and report to, and the type of projects you'll work on. This will make it easier to set priorities, make good decisions, and exceed expectations.
Establish alliances. Your co-workers may be wary at the start. Try to be friendly, show a positive attitude, and be willing to work hard. Let's face it: Your co-workers are testing you, so a willingness to work through lunch, come in early, or stay a bit late could earn you major points.
Study hard. If you have free moments, use the time to study up on the company, the founding members, the board, the mission statement, and the industry. This, along with other on-the-job training, will help you continue to hone your skill set.
Raise your hand high. Volunteer for other assignments or tasks, especially during crunch times. But be sure that you are doing your job well and are getting good feedback before you take on anything too big or stressful.
Keep a stiff upper lip. If you mess up, admit it (even if you're embarrassed by your mistake). Follow orders promptly, and don't complain. Remember that at the beginning it's best to get the lay of the land before beginning to rock the boat with statements that start with phrases like "At my other job…"