Ready For a Dog?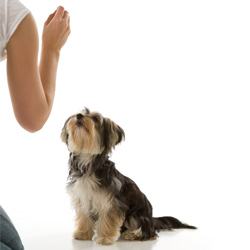 After a long trudge home from the subway station, you finally arrive at your door. As you insert your key in the lock, you imagine for a second what it might feel like to be greeted by an enthusiastic four-legged pal and not the ticking of your kitchen clock. But with the long hours you keep at your job—and the necessary amount of schmoozing you need to do at after-work events—can your lifestyle accommodate a canine?
For years, Annie Dugan didn't think so. As the co-owner of Canada's Firefly Theatre and Circus Arts, life was already a juggling act. So she stuck with cats and gave up the canine dream. But when a lost dog wandered into her backyard last winter, Dugan knew she'd found a keeper. Now Dugan says her work/life balance has improved because she has a mixed breed named Mochi to keep her focused. "The dog helps me stop working," she says. Mochi has changed her routine—morning and evening walks and trips to the dog park are a necessity. There are challenges, like finding a dog sitter, but it's worth it, says Dugan. "I think it's a little like having a baby. There's never a good time for it."
Are you pondering getting a pooch? Keep the following tips in mind:
Find your perfect match. It starts with a good pet–owner match, says Jamie Hunter, a volunteer with Second Chance Animal Rescue Society in Alberta. If you work long hours, you shouldn't get working dogs like border collies and catahoulas—they're destructive when bored. The same is true for big dogs—smaller is generally better for the city. Hunter advocates getting a dog who's been fostered by a rescue group like Heart Inc. in Western New York or Toronto's 4 Legged Love —they know the dog's personality and will work to create a good match. If you're looking for a purebred, talk to breeders at your local dog show for information on breeds. The American Kennel Association is another great info resource.
Avoid the puppy problem. Puppies are like babies—they need a lot of care. If you're not ready for late-night howling, opt for a dog that's at least 2 years old. An older dog will also be less likely to chew your slingbacks, and can more easily manage being left alone than a younger pup.
Check out your city's doggie digs. Many cities have off-leash dog parks, which is a great way to keep Fido in shape. Doggie day cares offer playtime for your pet while you're at the office and will give your dog "an active day, mentally and physically," says Hunter. "It's a good thing for busy people." Yuppy Puppy, a dog day-care/training service, has locations across the country. For a cheaper option, check out your local dog walkers and pet sitters, who can offer a bit of extra TLC for dogs (and cats) left at home.
Avoid "only-child" syndrome. Animals generally do better in teams, providing support and entertainment for each other while you're away, says Hunter. If possible, try to get more than one critter.
Bring Scruffy to work. Some employers allow dogs in the workplace. For a list of employers with pooch-friendly policies, check out www.dogfriendly.com. Before bringing your dog to work, check with your co-workers for allergies. Also make sure to puppy-proof your workspace (remove poisonous plants, etc.); bathe Fido and ensure shots are current; bring paper towels; and don't force co-workers to interact with your dog. And no matter how cute he is, remember: Fido doesn't belong in the boardroom.