Ready to Move In Together?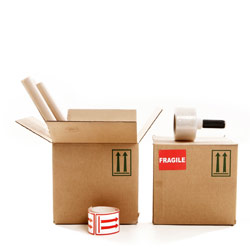 So, that's it. You've decided to move in together. You're excited, in love and ready to go for it. People are warning you that it's a big deal, but you are different and so is your relationship. Is it such a big deal, though? Yes. After all, it's like marriage without the standup mixer and the tax break.
The first few months of living together are a pivotal time in every couple's relationship. All the usual skills required for success – listening, compromising, communicating – become 10 times more important.
Get On The Same Page
You no longer need to pack an overnight bag and you're going to be paying less in rent, which is awesome. But, if these are the biggest reasons for moving in together, think twice. Make sure you're both on the same page about where you're going. If you were tired of commuting to his place and he's thinking marriage dry-run, it's going to come to a head at some point.
Let The Dust Settle
The first few weeks are blissful. The alarm clock sounds sweet because you get to roll over and see your honey. You're excited to get your joint electric bill. But, just like everything else in life, your relationship is constantly changing. Why are you the only one who thinks to buy milk? You agreed that his showering first was fine until you started to get frostbite. Hold off on big decisions (hysterectomies, red bedrooms) until the dust settles.
Set House Rules
He's your boyfriend, not just your roommate, so you guys don't need to talk about the dishes, right? Wrong. From the beginning, designate responsibilities. No, you don't need to have an actual chore chart, but once you both know expectations, you can meet them.
The Small Stuff
If little things are bothering you – socks on the floor instead of the hamper, his leaving the water running while brushing his teeth – say something or learn to let it go. Being flexible is great if it comes naturally, but if not, speak-up. Letting little things fester is only going to lead to a big blowout.
Personal Space
Just because you share an address doesn't mean you always have to share couch space. Undoubtedly, you'll want some uninterrupted time alone in the house and so will he. Create spaces where you both can feel comfortable and alone. And don't forget to spend time out of the house with your friends. In order to remain the same, wonderful person he fell in love with, you need to stay true to who you are.
Date Night
Since inevitably you're going to see each other at home, making dates with each other might come to a stop. Don't let it. Personally, I hate the term date night, but it's great to plan to see each other out of the house…and out of your sweats.
Expect Valleys
Just like a relationship, living together is going to have peaks and valleys. Just because you have a bad day together, or even a bad week, doesn't mean you should start packing. Stick with it because sometimes a great day comes out of nowhere.
Exit Strategy
Feeling trapped in a situation is stressful. Some may deem it pessimistic, but have a plan to get out of your new living arrangement if you need to. Make sure to have your own savings account. Knowing you can leave will likely mean you'll want to stay.
Be Forgiving And Laugh…A Lot
We're all only human and no matter what, no one is going to be perfect. Forgive what you can and learn to laugh about the things you can't. If you have a spectacular fight, make sure you laugh about something together when it's over.
As with everything in a healthy relationship, it comes down to listening, compromising and talking things through until you're blue in the face.