Reality Check for Graduates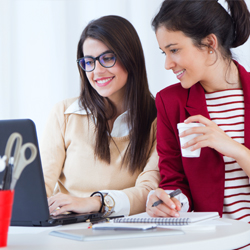 Last night, I was asked to take part in a career panel at Fairfield University. As a primer for the event, the founding organizer and Video Producer for Group SJR, Audra Martin, let us know that over half of these students will graduate from college without ever having had an internship. She also instructed us to not sugar coat anything and be as honest as possible about our after college experiences. It was a great event with a ton of amazing panelists who were real and truthful about their career paths.
Internships are important: The best way to learn about an industry is to roll up your sleeves and do it. Of course you can sit in your classes and learn from a book, but there is no substitute for being in the working world. If your school has a less than stellar career department (and most do due to budget cuts), you need to do the work on your own, which is actually better. No one is going to hold your hand through your job search so why not go full speed into searching for an internship? The first stop is to reach out to your network. Ask your professors if they have any contacts in the industry, contact former alumni for informational interviews, reach out to family and friends that might be able to point you in the right direction. LinkedIn is a great networking tool. Use it to your advantage by researching openings and connecting with hiring managers directly as opposed to blindly applying to [email protected] You'll find out that you'll get many more responses when dealing with a real person.
Be persistent without being annoying: One student asked how to get noticed without feeling like a pest. The trick is that in order to get noticed you need to be a squeaky wheel – especially in the media field. My inbox is filled to the brim with "Asks" and I do my best to get back to people but sometimes an email can get lost. This is why it's important to keep checking in. The other point to consider is that when you are reaching out to someone in hopes of a meeting, job, or information you need to have done your homework and create an "in". Study the person you are contacting. Read their LinkedIn Profile, member posts, blog anything on the web is fair game. Learn about their experience and the company they currently work for and previous ones too. Use this information to your advantage over email, "I read your article on PR trends and learned a ton" or "I see you work on the Today Show – I'm such a huge fan. I especially love the weekly segment about women 'Having it All.'" This is your in. Chances are the people you are emailing know why you are contacting them but going the extra mile and doing your homework turns your "ask" into a relationship.
Don't expect a dream job at 21: Congrats on graduating, entering the workforce and officially becoming an adult. Chances are you'll be interviewing and submitting dozens of resumes after commencement. Chances are you'll apply for jobs that aren't exactly your dream job and that's OK. We can't all be Lena Denham and produce, star, and write major TV shows. You need to start at the bottom to get ready for your move to the top. When you are just starting out you have no idea how many different types of jobs are truly out there. Don't sit on your thumbs waiting for the exact one to come along – because it might never come along. If you get an interesting offer – take it. Your 20s are the time to experiment, learn new things and more importantly – take risks. You don't have a family to support so if you want to take a freelance TV production gig that has awful hours, low pay and no benefits – do it now!