What It's Really Like to Be a Hollywood Stylist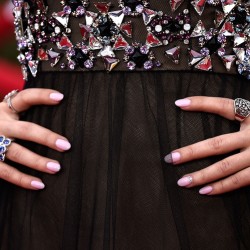 When you see a beautiful actress on the red carpet wearing just the most incredible ensemble you've ever seen (which you're about to see a lot of at this Sunday's Oscars), try to remember that she didn't do it all herself. That in fact she did not just wake up like that. She had a team of people helping her look flawless, and that effort was most likely led by an amazing stylist. Well, we were lucky enough to talk to one of those stylists, Anita Patrickson. She's truly the force behind the gorgeous women you see on the red carpet.
Patrickson's resume is impressive to say the least. After serving as the Assistant West Coast Editor for Allure magazine, she helped style the cover shoots with celebs such as Britney Spears, Jennifer Lopez, and Katherine Heigl.
She decided to venture out on her own and launch a freelance career, which led to her dressing some amazing celebrities, including Emma Watson and Julianne Hough (pictured below with Patrickson), to Emmy Rossum, Rachel Bilson, Nina Dobrev, Chanel Iman, Taylor Kitsch, and Chris Colfer. In addition to being the co-creator of International Style Institute she also regularly styles the covers and editorial pages of Elle, Instyle, Vanity Fair, Esquire, Glamour, and more. Read on to learn about Patrickson's career, and what it's really like to be responsible for an a-list red carpet look.
Describe a typical day for you, or do you not have one?
Every single day is different for me, which is one of the things I love the most. One day we might be on a yacht in the Bahamas shooting (this is definitely a good day!) and the next we're getting dirty and gritty in downtown LA scouring the street markets for the perfect shade of navy tulle for a project.
What's the hardest part about your job?
The hardest is choosing just one dress from a rack of 100 amazing gowns!
What's your favorite part of your job?
So many favorite parts! I LOVE the people, I just adore all of my clients, they feel like family. I love the creative inspiration I get from working with the best designers, photographer, hair and makeup artists in the world. It's such a treat to be hands on with these geniuses!
What's some advice you have for young women looking to get into styling?
Persevere! That's the best note I have. If you love it and believe in it, you have to keep trucking. The moments I've gotten my breaks have been the moments when I was literally about to quit and someone gave me a pep talk convincing me to keep going. And each time, shortly after, something amazing happened.

What do you need to do when it comes to styling one of your clients for a huge event like the Oscars?
So much goes into just one red carpet look. Especially for a mega event like the Oscars. Weeks of prep go into finding the right gowns to pull, shoes, jewelry, and clutches. Each aspect is clearly thought through and picked apart until it's absolutely perfect. We will probably have about three fittings for an Oscar gown. If we're customizing a gown, the process is even more involved going back and forth with the designers with sketches and fabric swatches before the process of fitting or making the gown even begins.
Do you ever get nervous when you're styling? Do you ever have to calm a nervous actress down?
I often get nervous, and I take that as a sign that I still care so so much. The day I stop getting nervous is the day I should probably stop. However, the trick is to appear as calm as a cucumber so as not to stress out your client. They need to feel like everything is 100% perfect, that there's nothing in the world to worry about and that you're going to take care of everything… them included! If we as the hair, makeup, and styling team are doing our jobs, their nerves should be ones of excitement rather than fear. I want my girls to be itching to get onto the carpet to show off their look.
Who are your favorite designers?
So many amazing designers that I love for different reasons. Valentino for their amazing embroidered pieces, Rosie Assoulin for her originality, Chanel for the piece of history you're wearing. AG for my jeans, Rick Owens for my jackets, Isabel Marant for day dresses, and Monique Lhullier for any girl that's ever wanted to feel like a movie star.
Patrickson is the co-creator – along with Simply Stylist – of the International Style Institute. This three-day styling boot camp is taking place at The Grove in Los Angeles from February 27-March 1, 2015. Guests include Julianne Hough, Louise Roe, celebrity makeup artists Jamie Greenberg and Spencer Barnes, celebrity hair stylist Riawna Capri of Nine Zero One salon, an editor from Allure, and so many more! Find out more information here and follow the International Style Institute on Twitter @StyleInstitute.
Photos: Frazer Harrison / Getty Images; Courtesy of Simply Stylist
By Meredith Lepore Levo League