Reinvent Your Resume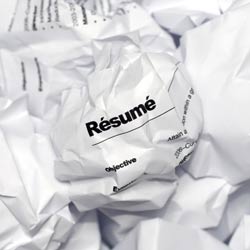 If you've been in the workforce for a few years, chances are you've got an old résumé saved on your computer that you've been more than happy to ignore. That's understandable; résumé writing is no one's favorite Saturday-night activity. But smart women know that a killer résumé can be an incredibly powerful career tool. It's worth a few hours of revising and reenergizing the big R if you want a promotion or a new job.
To help, here are some of my favorite résumé reinvention tips.
Include a profile or summary statement. A two to three sentence sales-y statement at the top of a résumé gives your reader an overview of the skills and experience you've listed beneath it. Think of it as a more sophisticated version of an objective. Since most people don't spend a lot of time reading a résumé (and you can never assume that anyone will read your perfectly crafted cover letter), you're focusing their attention. This is especially important if you are making a career change. A summary statement can briefly connect your past experience to the new path you want to pursue.
Use keywords. Not only will online job sites search for keywords on your résumé, but potential employers will also. Employers' eyes are naturally drawn to the words they're looking for—the brand names, skills, and experience they need. The best way to find the right keywords is to look at online job listings for the kinds of positions you're interested in. Then, include some of the prominent words and phrases in those job listings on your résumé.
Quantify everything. Make sure your résumé is as specific as possible. Employers love to see phrases such as "Managed a team of three salespeople," "Improved event attendance by 50% in 12 months," or "Raised $11,000 through solicitation of alumni donations."
Prioritize. When you list bullet points under each job, be sure to list the most important task, accomplishment, or responsibility first. It's highly unlikely that a potential employer is going to read every bullet point under every item on your résumé, but most people will read the first or second. You don't have to list accomplishments chronologically; list the most impressive first.
Customize. Employers can tell when they are seeing a generic résumé. Customize yours with a different profile statement and different keywords that fit with the individual companies to which you're applying. For instance, if you're applying for engineering jobs at corporations and government agencies, one résumé may highlight your experience in public service, while the other might refer to your desire to increase a corporation's bottom line.
Take it for a test drive. In addition to customizing, make sure your résumé will shine in the specific industry you want to join. What's impressive on a banking résumé is different from what's required on a journalist's resume, or a social worker's curriculum vitae. If you haven't already, show your résumé to people you know in your desired field and get their opinions.

Don't lie, exaggerate, or stretch the truth. This happens way too often, and it's never a good idea. By all means, cast your skills and experience in the most positive light, but never, ever lie. Remember, too, that your résumé needs care, feeding, and daylight to stay alive. Add updates whenever you gain new experience or skills, and keep your eyes open for additional tips to make your résumé the best it can be. Your résumé may never achieve Saturday-night-entertainment status, but it does have the power to make your Monday through Friday a whole lot more fun.