How to Roast Vegetables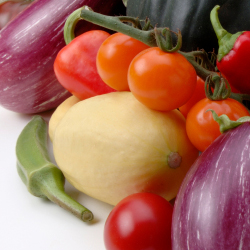 Roasting vegetables is a quick, easy, and economical way to get your daily dose of veggies and add yummy richness and flavor to any meal. (They also make great leftovers to take for lunch.) Here's how.
Buy fresh and seasonal vegetables at your local market. For a list of what's in season in your area, log on to the National Resources Defense Council at http://nrdc.org/health/foodmiles/.
Cut veggies into similarly sized chunks so they'll cook in the oven at the same pace. You can store precut veggies in ziplock bags in the fridge.
When you arrive home from work, preheat the oven to 400 degrees, lightly coat veggies with a couple of teaspoons of olive oil, and sprinkle with salt and pepper. You can also add extra flavor by sprinkling fresh or dried herbs over the vegetables.
Each vegetable has different roasting times. For dense and hard vegetables like potatoes, root vegetables, and yams, 45 minutes to 1 hour. For medium-soft vegetables like peppers and onions, eggplant, and zucchini, 35 to 45 minutes. And for thin and soft vegetables like asparagus and green beans, 12 to 20 minutes. Check on the vegetables occasionally, tossing them to make sure they don't stick to the pan or burn.
Roast Butternut Squash.
1 butternut squash (about 2 ½ pounds)
1 tablespoon extra virgin olive oil
Salt and pepper
Preheat oven to 400. Cut the ends off of the squash, cut in half, and scoop out seeds. Cut each half into about 6 slices, and then into equally sized chunks. Place in ovenproof dish. Drizzle with olive oil and sprinkle with salt and pepper. Bake for about 30 minutes, or until the squash is tender and golden-colored.
Roasted Tomatoes.
8–0 large ripe tomatoes (you can substitute smaller tomatoes if you need to, just be sure the amount is equal to about 8–10 large ripe ones)
1 tablespoon extra virgin olive oil
1 teaspoon sugar
Salt and pepper
Preheat oven to 425. Cut the tops off the tomatoes and place the tomatoes in an oiled ovenproof gratin dish that will hold them snugly. Evenly sprinkle the olive oil, sugar, salt, and pepper over the tomatoes. Bake for 1 ½ hours or until the tomatoes have broken down, there is a good amount of juice in the pan, and the tomatoes are browned and caramelized. Place the gratin dish on the stove over medium-high heat on top of the stove. Cook to reduce the tomato juice until it forms a thicker glaze. You can serve immediately, or cook ahead of time and store in the fridge.
Roasted Eggplant.
2 medium-size eggplants
1 tablespoon extra virgin olive oil
Salt and pepper
Preheat oven to 450. Slice eggplants in half into half-inch slices and discard the tough stem and ends. Brush slices of eggplant with olive oil and place on a large baking sheet. Sprinkle with salt and pepper and roast until the slices are tender and brown, 20 to 25 minutes.