Shopping On a Budget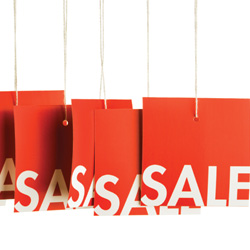 Just a year or two ago, fashionistas ruled the style scene. They proudly sported designer labels, toted the latest "it" bags, and rarely felt the need to shop the sale rack. But with the recent economic downturn, a new breed of shopper has entered the shopping scene: the recessionista.
A recessionista knows the importance of stretching her dollars and watching her spending but also loves the thrill of purchasing something new and stylish to update her wardrobe. They are women who've learned to spot a great deal, and to shop for trendy wardrobes for half the price. And most importantly, they've embraced budget-friendly shopping tactics so they can continue feeding their passion for style and fashion in tougher economic times.
Create your own recession-chic wardrobe with these tips.
Shop designer names, for less. If you adore designer labels, know that you can still shop these brands even when times are tight. Just make sure you're shopping for these big names at more affordable stores like Target, Wal-Mart, and Nordstrom Rack. At Wal-Mart, you'll find casual-chic wear from Norma Kamali, and at Nordstrom Rack rows upon rows of discounted designer jeans. And at Target, look for items designed by such big names as Isaac Mizrahi, Jonathan Saunders, and Anya Hindmarch.
Splurge vs. save. Make a pact with yourself to only spend the big bucks on foundation wardrobe items. By these, we mean the garments and accessories meant to last a lifetime, not a season. So go ahead and splurge on a classic black handbag or work suit if it's something you'll wear forever. But skinny jeans, patent leather purses, trendy ankle boots, and high-waisted pants? It's best to buy these passing trends on the cheap at stores like H&M or Forever 21. The fact that you'll soon be casting them aside to make room for next season's trends suggests your big bucks are better spent on the classics.
Connect with other bargain shoppers. The Internet is a ripe source for thrifty shopping tips. Start by scouring the blogosphere for posts by bloggers in your area who love to share their fashion finds. Or sign up for shopping-focused newsletters like those from Daily Candy or City Picks Group. The writers and editors of these newsletter-style e-mails often share tips on sales and insider events at local stores that can save you big bucks.
Ask the right questions. When visiting your favorite stores, always ask what day they mark merchandise down. Many stores do so on the same day each week; knowing which day means you can time your shopping trips to have the best pick of reduced-price merchandise (not to mention a wider range of sizes). Also, consider asking when their annual or seasonal sales are and make sure to visit at those times of the year to stock up on fashionable finds.
Sign up for e-mail lists. Big-name stores—Banana Republic, Nordstrom, Gap, etc.—send out regular e-mails regarding sale items at their brick-and-mortar stores and online shops. Sign up for these newsletters and you'll quickly reap benefits such as saving 40% on your next purchase or receiving waived shipping fees if you spend a certain amount. Not every newsletter contains a good deal, so be choosy. But by signing up for them, you'll make certain you're in the know in the first place. And that is what being a recessionista is all about.