Are You Sick of Your Job?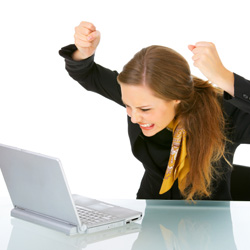 The summer is beginning to wind down (sniff, sniff), and now's as good a time as any to figure out how you feel about your job. If you're lucky, you've just returned from a little vacation that has left you refreshed and inspired about work. If you're unlucky, you're slogging through yet another Tuesday and wondering, "Will I ever love my job again?"
Summer job malaise is terrible. It causes you to stare out the window at the sunshine and blue sky, sneak in late and leave early, and spend most of the afternoon scouring for flight and hotel deals on the Internet. Summertime is when you're most likely to hate your job, if only because there's so much other stuff you could be doing besides sitting in front of the computer and staring at a blank screen.
But how do you tell if your summer job malaise is fleeting, or if this is a sign that you should actively start looking for a new place to hang your laptop bag once September arrives? Here, a few ways to figure it out.
Give yourself a break. Yes, you could choose to put in longer hours and work harder to make yourself shine while all the other yahoos are away on vacation. But you could also choose to give yourself a break and take a well-deserved vacation. Even a few days away from the office e-mail can make you feel renewed and excited about work again. Take stock upon your return and note if you are happy to be back at work, or feel the stress crawling into your shoulders before you've even stepped through the front doors.
Look at the calendar. Some people go through periodic job freak-outs that can be directly tied to certain times of year or stressful periods at work. It's worth it to try and take a step back and discover if you're in one of those I-hate-my-job periods that can be caused by stress or boredom. If you are, chances are you'll weather the storm and be enthusiastic about work in a few weeks.
Listen to your gut. Maybe you do really hate your job. Maybe you are itching for change and it gets worse in summer because you're dreaming of travel and adventure. If so, get on it! Summer can be a great time to look for a job because a lot of other people lack the determination to job-search on summer evenings. Start looking at job postings. If something looks amazing, leap!
Get outside. At the very least, summer is a good time to take long hikes or bike rides and think about your career and what might come next. Revamp your résumé and focus on your goals and what you'd like to complete by the end of the year. If your malaise ends come Labor Day, great. But if not, you'll be primed for a job search. Perhaps you'll even be picking out what to wear on the first day of your new job—the one where you don't spend all afternoon staring out the window.