Six Musts for the New Manager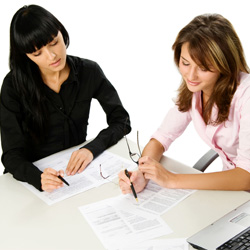 In the past, becoming a boss for the first time was a rough transition. You were expected to take the reins with no training or preparation whatsoever, and your team would suffer the consequences. Fortunately, in the twenty-first century, it seems that organizations have woken up and realized that poor supervisor/employee relationships are a major barrier to retention, and you will likely be signed up for a leadership development course before you can take a sip from your brand new "I'm the boss" coffee mug.
In the event that your training isn't scheduled right away, I'll use this opportunity to pass on some of the management basics I learned as a result of the research I conducted for my new book, Success for Hire: Simple Strategies to Find and Keep Outstanding Employees (ASTD Press):
1. Get started on the right foot. Set clear expectations and performance goals, and, from the very beginning, establish weekly check-ins that ensure accountability and progress.
2. Encourage mutual respect, autonomy, and information sharing among the team. If you want to make your employees feel valued, inspire their passions and prompt them to make their own decisions. They need to know that you trust their judgment and believe in their ideas.
3. Create a workplace culture that's appealing to your employees. Depending on your reports, this might involve things like flexible scheduling, the use of innovative workplace technologies, or a more relaxed dress code. Keep in mind that managers must be visible symbols of the culture they aim to promote. If the supervisor says "let's be casual" but still wears suits every day, anyone who aspires to being at the top will keep on wearing a suit.
4. Learn to manage an array of personal styles. Some employees will want your feedback every step of the way, while others will get insulted if they catch even a whiff of micromanagement. Take the time to consider the motivations and skill set of each individual team member, and be cognizant of differences based on age and background. For instance, Generation X-ers, or employees in their thirties and forties, are accustomed to taking care of themselves, while twenty-something Millennials are eager for you to provide guidance and training opportunities.
5. Keep the lines of communication open. This includes maintaining an open-door policy, practicing the art of constructive criticism, and delivering timely and thorough performance appraisals. You should also take advantage of techniques—such as stay interviews or 360 degree reviews—that allow employees to let you know how you're doing and how satisfied they are with their jobs and the organization in general.
6. Be on the lookout for signs of defection. Keep close tabs on top performers, noting any decline in performance, sudden complaints from a person who's not a complainer, wistful references to other companies, or withdrawal behavior. Arrange to meet with the employee as soon as possible, and use probing questions to identify the source of the problem. Indicate that you value her as an employee and ask how you can work together to create a better work experience.
Provided by DivineCaroline, a community where smart, ambitious women like you share experiences, learn, and connect. Visit us at DivineCaroline.com.