Splurge or Save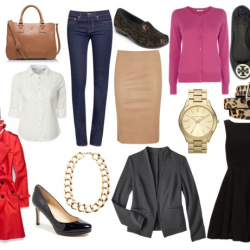 With the change of season comes a desire to update your wardrobe. But deciding what trends to spend your bank on is always a problem. Remember that pink poncho you bought in 2003 that cost a fortune and is now relegated to the back of your closet? To ensure you don't make the same mistake again, let WORKS help you decide what pieces are worth the investment and which ones you can cheap out on.
SPLURGE: Winter coat
When it comes to bundling up, you should never sacrifice warmth—or style—for a buck. Not to mention that a classic coat can last through several seasons and be worn with evening attire or jeans and a sweater. When it comes to coats, nobody does it better than Burberry.
SAVE: Trendy jacket
This fall, the short leather jacket is making a comeback. This daring look is adding a hard edge to more feminine frills of seasons past. With trend revivals, always stay under budget because it probably won't be popular for more than a season. This leather lovely from Wilson will do the job and won't leave you broke.
SPLURGE: Boots
Platforms or wedges, round or pointed toe, ankle or oxford bootie—the shoe runaround is sure to cause a dizzy spell. When it doubt, remember this: You can never go wrong with a pair of high black boots. Good in the winter and perfect for pencil skirts, miniskirts, and even jeans, you'll get the most wear out of this wardrobe staple. And since your shoes take quite a pounding, you want to ensure they'll last for more than one season.
SAVE: Booties
Sure, Victoria Beckham and Jennifer Lopez have unlimited funds to blow on every trend that may arise, but most of us can't finance fashion's fickle tendencies. This fall's debatable booties are one thing to save on. Opt for a non–name brand at first and get a feel for the look. If you love it, you can always upgrade later.
SPLURGE: Undergarments
Nothing can make you look more cheap and tacky than an ill-fitting undergarment. Whether we're talking pesky bra straps or nasty underwear lines, your confidence—and comfort level—will undoubtedly be squashed. Dish it out for your undies and everything on top of them will miraculously look and feel better.
SAVE: Tights
Let's face it: Tights are bound to run whether you spent $20 or $200 on them, so why shell out? Stock up with hose from Hue, which look great for less.
SPLURGE: Suit
There are two things every women needs in her wardrobe: a perfect black dress and a well-cut suit. And you ain't gonna get either for $100. Look to a major fashion label to give you the professional yet chic city look you covet. And if you balk at the price, just think of it this way: You have to look successful if you want to be successful.
SAVE: Oxford shirt
If you've seen one button-down, you've technically seen them all. No need to break the bank if your dry cleaner is reliable or you iron on a regular basis. You'll find the best basics at The Limited.
SPLURGE: Bag
In a time when your bag speaks volumes, never take the cheap way out. Limit yourself to two really fabulous bags a year and stick to classic styles to get the most bang for your buck. The framed leather and chic hardware of this purse is a favorite among celebs.
SAVE: Belt
With fall fashions calling attention to the waist, belts are a must-have accessory. But why buy one when you can really have them all? Start with this versatile, affordable cincher and go from there.