Spring Clean Your Closet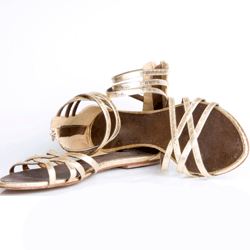 It's the first day of spring, and you know what that means: Time to start unpacking your warmer-weather wear. Not sure what's still in style from last season? WORKS helps you decide what to keep and what to store for the brighter days ahead.
Keep: Gladiator Sandals
Last season this quirky trend was a bit questionable, but this time around it's here to stay. Invest now! The strappy sandal looks great in a heel or a flat. Try it in metallic, patent, or adorned with metals for a more dressy look.
Store: Translucent Heels
Fashionistas went crazy for clear slingbacks, bags, and accessories last season, but the trend has, um, cleared out. Store your see-through shoes for springs yet to come.
Keep: Circle Handle Satchel
Cut down on your bag contents and switch to something chic for everyday use. Stars like Sarah Jessica Parker, Eva Mendes, and Mary-Kate Olsen have already ditched their totes in favor of Dior's easy-to-carry circle handle bag.
Store: Oversized Hobo
Dump out that too-big bag immediately and get your hands on something more comfortable. Switching to something with a handle at half the size will force you to clean out your bag and give your shoulder a much-needed rest.
Keep: Bright Colors
The '80s are making a bold comeback. While yellow was the only color brightening up our wardrobes last spring, pastel pink, orange, green, and blue are here to stay.
Store: White Lace
The little white lace dress may have taken you from spring to the very end of fall, but it's time to give it a break. Though the simple frocks will never be out of style, save them for summer events, and be sure to have fun with color.
Keep: Chevron Prints
From bags to dresses, Chevron-inspired prints are a spring must-have. Stock up on wild patterns and safari wear for the office and weekend. Look no further than Madewell to get all your looks for less.
Store: Mod Prints
Headbands, '60s prints, and platforms were all the rage last year—and are sure to come back around again. Store your mod frocks, wooden heels, and sweet hair bands and get in tune with your wild side.