Spring Style Trends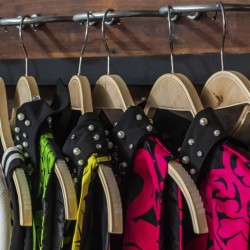 Did getting dressed for work this morning almost bore you back to sleep? If you think that closet full of suits is better off closed, you're not alone. Here are a few simple ways to lighten up your work wardrobe for spring, and stop suffocating your inner "stylista."
1. Start with your classic pieces and build from there. Your suits, slacks, and skirts will play a key role in your spring style makeover (we're in a recession, people, we can't buy everything new!). The key is to add pops of bright color, fun accessories, and must-have seasonal trends into the mix.
2. Carry a cardigan. With so many styles to choose from, cardigans are a style staple and a great "layering look" for spring. Long, fitted cardigans look great belted over a dress and will show off your curves. Or try a sophisticated cardigan with a pencil skirt and fitted tank. A few other twists on the typical cardigan: the cropped cardigan, with an ikat design.. Mix and match cardigans over your black or gray pants and skirts.
3. Buy bling for spring! Cuffs, bangles, and jewels, oh my! Accessorizing is another simple way to add some flair into a subdued work wardrobe, and it doesn't have to cost you a fortune. You can certainly invest in more pricey pieces that will last, or try stores like J. Crew for inexpensive versions. From statement beads to classic braided cuffs, this season's funky accessories are a great way to make a statement without going overboard.
4. Brighten up with bold colors. A fuchsia blouse is perfect under a suit jacket. Simply take off the jacket and voilà! You're dressed to impress over cocktails after work. You can also wow your co-workers with a fabulous bag. Rebecca Minkoff has a great tote that comes in a python print! Perfect for fitting all those important memos, makeup, and more.
5. Say it with shoes. From casual metallic flats to peep toe wedges, reviving your look with some snazzy new shoes is simple. Even if your office requires suits, your shoes can speak volumes about your personal fashion sense.