Start a Lunch Club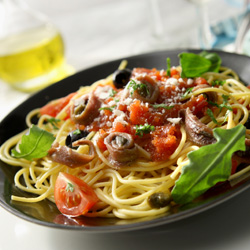 We're all trying to be better about bringing sack lunches to work. But there are some days when it's pretty tough, especially when the girl next to you in the lunchroom is eating something so good that your PB&J looks exactly like what it is—a lame attempt at lunchtime satisfaction. Here's a tasty suggestion: Start a lunch club! It just may be the easiest and most fun work idea to implement ever. Here's how to do it.
Gather your peeps. Find some trustworthy, like-minded work friends. Ideally, these people are folks you know and trust, or at the very least, those who are game for the fun and responsibility of feeding and being fed by others at least once a week.
Set up a schedule. Depending on how many people you've got (a minimum of two will work, though four or five is ideal), set up a weekly schedule. Decide who is cooking and bringing lunch which days and have a calendar where everyone can access it—Google calendar is super for this kind of thing.
Get cooking. On your day, you'll bring food (pasta salad, sandwich fixings, leftover homemade lasagna) for everyone in the group. On other days, people will do the same for you. The idea is that one day a week you'll put in some extra effort and feed the crew; the rest of the days they'll feed you.
Set up some guidelines. It's important to know any food allergies, likes, and dislikes. But it's also important to know the other kinds of eaters you're dealing with. Discuss if you'd like to eat vegetarian a couple of days a week, and note who gets bored with sandwiches. Aim to keep your meals healthy and inventive (no chicken Caesar day after day), and remember to set a budget. This won't work if one day someone serves steak sandwiches and the next day someone else brings in five packages of Ramen noodles.
Stay in the loop. Once the club gets going, remember to communicate. Let the group know in advance if you can't cook or have a lunch meeting, so meals can be planned accordingly. Same goes for sick days, which will happen. Once you've been at it awhile it can be fun to start trading recipes and bringing back old favorites. Knowing you have really good green curry to look forward to at least once a month can make the weeks go by more quickly.
Green Curry in a Hurry
Adapted from 101 Cookbooks
4 teaspoons green curry paste*
3/4 teaspoon salt
1 (14-ounce) can coconut milk—light milk is okay
1 large onion, sliced
14 ounces vegetable broth
6 ounces of firm tofu, cut into cubes
1 cup peas, fresh or frozen
2 cups asparagus, fresh or frozen, cut into 1/2-inch pieces
Juice of one lime
1/4 cup cilantro
2 cups cooked rice
In a large pot over medium heat, whisk the curry paste with salt and a small bit of the coconut milk. Simmer for just a minute. Add the onion and sauté until it softens up, just a minute or so. Add the rest of the coconut milk and broth and simmer for another five minutes. Taste and adjust for flavor—you can add more green curry paste at this point if you like it stronger.
Stir in the tofu, and just before serving, the peas and asparagus. Simmer for a minute or two, just long enough for the vegetables to cook a bit. Finish the pot with the lime juice and the cilantro.
Serve alone, like soup, or over rice for a heartier dish. Serves 4 or more.
*About that curry: Each curry paste is different, so start with a small amount—you can always add more. If you do, mix the paste with a tiny bit of water before putting it into the pot. This prevents clumping.