Stay Sane Working From Home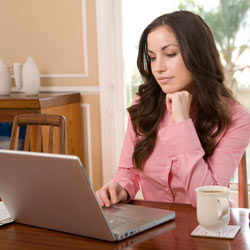 Working from home sounds like a dream. No rules, no dress code, no boss (at least in the building), and the freedom to create your own schedule. But it can also be lonely, unstructured, and unproductive if you don't know how to do it right. To avoid lounging around in your pj's all day and talking to your houseplants, try these tips for a successful day at the "home" office.
Rise and shine at the same time. Set your alarm for the same time every day (preferably before noon!) to keep your body on a regular clock.
Ease your way into the day. People who "go to work" usually need up to an hour to get ready. And they also have a commute to help them transition into the work mind-set. While you don't have far to go, it's important to take some time to wake up before you hit the computer and get cracking. Make your bed, get dressed (in real clothes, not a different pair of pajamas), eat your Cheerios, and get caught up on your favorite blogs, websites, and newspapers before the day begins.
Follow a daily to-do list. Having a schedule and checking off tasks as they are completed will make you feel productive and keep you focused.
Create an office environment. While you obviously don't need a nameplate, you do need an area that feels like a real work space. Whether you have a second bedroom that can double as an office, or you turn half of your dining-room table into a desk…anywhere other than the couch will do!
Avoid distractions. Even if Oprah has Jennifer Aniston on as a guest for the ninth time, it doesn't mean you should plop down and watch. DVR it like the rest of the world! You don't want to ruin your flow with daytime TV or household chores. It doesn't hurt to throw in a load of laundry before a conference call, just don't let your "around the house" to-do list get in the way of your job.
Take breaks. People who work in an office building take lunch breaks, have meetings with co-workers throughout the day, and step out to stretch their legs. You should do the same. When you need fresh air, do a lap around your block, meet a friend for a bite, or run a quick errand to break up the day.
Eat right. You'll be tempted to wander over to your kitchen's snack cabinet throughout the day. So in order to stay healthy and avoid packing on the pounds, stock up on fruits, veggies, and low-fat snacks to keep you satisfied.
Go to the gym. One of the benefits of working from home is that you determine your schedule. And since it's much more flexible, you can easily avoid gym rush hours (early morning and after work). Try working out in the middle of your day to break it up, clear your head, and boost your energy to keep plugging away! An even better perk? You won't have to fight the masses for an elliptical!
Play pump-up music. Like an all-star athlete, sometimes you might need an adrenaline rush to keep going! If you're feeling sluggish and unmotivated, make a "work mix" to keep you moving (and grooving) throughout your day.
Relocate if you're lonely. If you're able to grab your laptop and work from a coffee shop every now and then, go for it. It's good to be out in the real world around other people, not cooped up at home all day with no human contact (Regis and Kelly don't count). You may even make some new friends who work from home, too!