Stylist Tips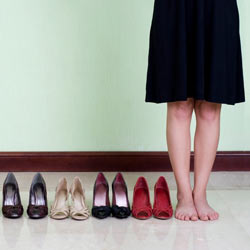 It didn't take long for me to love having a stylist in my life. And now I want to share what I've learned from my beloved Nahila with all of you.
Honest outsider required. The bottom line is that you can't be your own stylist…at least not at the beginning. It's difficult to pull yourself out of your own rut, and it's almost impossible to look at your body objectively. If you don't have the money to hire a pro, ask a friend whose style you admire and then set some ground rules: a) This is about trust, so invoke the code of honesty and discretion. b) Agree to push and to be pushed to try something different. c) Take turns. As the "client," you need both undivided attention and purchase power. For example, when you find those Chloe boots on sale that you both want, who wins?
It's all about the brand. What do you want to convey with your style? How would you like others to describe you? Consider me—I'm a career-woman building a career business. Do I want my signature style to be all suits? It may come off "worky" but boring. Personally, I prefer clothes that make me feel a bit sexy (did I say that out loud?) but is that the image I want to take into the boardroom? Nahila questioned me for an hour not about clothes, but about my business: What do you do functionally, day-to-day in your job? What are the adjectives you would like people to use to describe you? What do you want your style to say about you? The answers to those questions will inform your look.
Let magazines be your guide. One of the easiest ways to define your signature style is to buy a stack of magazines and tear out the looks that click. Is your image more Jennifer Aniston, Cameron Diaz, or somewhere in between? You're not trying for a full-on, head to toe imitation. But you can take cues from people who have stylists of their own and put serious effort into the way they dress. Identify lines, colors, or particular designers you love. Get up to speed on the season's key pieces. These steps will make shopping infinitely easier. I actually tape images/styles I like on the wall of my closet (close the door when you have guests). They inspire me and give me ideas when I'm getting dressed in the morning.
Clean out your closet. I have five Thomas Pink shirts hanging in my closet. I love them. I've never worn them. Nahila not only did the once over in my closet, but asked me to select my favorite pieces and explain why I liked them. Go through your closet with your "stylist" and identify things that have never left the hanger—why did you buy them and why aren't you wearing them? Do you buy things that you like the look of on others but don't work for you? Do you buy stuff that's too tight in hopes that you'll lose weight? Do you buy the same black shirt over and over again? Combing through your closet and asking "What are my shopping habits and what do I need to change?" will help you to climb out of a style rut.
Know your body. I've always known that my boobs are bigger than the rest of my body. What I didn't realize is that I have a boy waist. I've spent my fair share of time in front of the full-length mirror, but was more focused on my burgeoning ass than my non-existent hips. Stand in front of a mirror with your trusted friend, and take a long hard look. I have watched way too much American Idol, but as Randy would say, "it's all about song selection." You could have a killer (or not so killer body) but looking good is all about what you put on it. Capris with flats don't look good on short girls. Pockets on the ass are never good when you have ample booty. In the vast array of choices out there, let your body be the guide.