Should You Take a Vacation?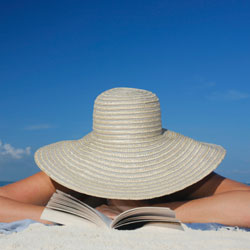 Summer, sweet summer. Ripe tomatoes. Days by the pool or, better yet, the beach. Not a care in the world. Until, that is, you return from vacation and face a deluge of emails, meetings, and phone calls. It's enough to make you want to return to the beach pronto, even if your bank account is screaming "Impossible!" But there are ways to ease back into the nine-to-five-drill without losing your hard-earned relaxation the second you enter the door.
Remain accessible. Can't wait to ditch that iPhone and escape from the grip of the Man? Think again. This won't be the completely stress-free trip you'd imagined. You'll need to reinforce the impression that you're dedicated to this job—even while you're away—so don't think you can ignore e-mails and phone calls this time around.
Coordinate with your boss. To minimize your boss' stress while you're away (what did this company ever do without you, by the way?), discuss with him a vacation time frame that would be most convenient.
Take a few days at a time. The two-week trip you've been wanting to take is out of the question. (Can you imagine the disaster you'd come back to?) Orchestrate your getaways around long weekends and you'll give them just enough time to remember why they should be paying you more.