Taking Your First Vacation Together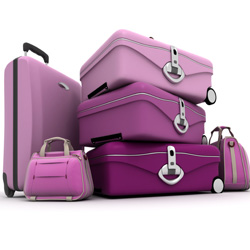 We both work really hard at our jobs, so it's not surprising that last spring my boyfriend and I were in desperate need of a vacation. When he suggested we take a trip together—our first as a couple—I pictured long, leisurely dinners over candlelight. He pictured Vegas. After several discussions, we agreed to "test the waters" (so to speak) on a Caribbean cruise. Neither of us had been on a cruise before, so it was a chance to try something new.
Some say that getting a potential mate drunk brings out his true colors. I say that putting him in an airport amid delays and screaming children will give you a darn good idea of what he's made of. I'm pleased to report that my boyfriend and I survived our first trip together, despite the threat of seasickness and airport drama. Here are a few tips to make your trip smooth sailing:
Agree on a destination. It's one thing to go to a movie that your boyfriend is dying to see but doesn't interest you (after all, relationships require compromise), but don't let him talk you into a trip you're not excited about. If he has his heart set on a camping trip and you're allergic to all things outdoors, speak up. Maybe you can choose a bed-and-breakfast in Vermont so he gets to see some scenery and you can enjoy the comforts of four walls and indoor plumbing. Try to find a place that offers sports teams and spas (or whatever your interests are) so you'll both be happy.
Start small. While you might be dying to take a trip overseas, it may be too early in the relationship to take such a high-stakes vacay. What if you suddenly break up after dropping several hundred bucks on a (nonrefundable) airline ticket? What if you discover two days into your two-week trek across Switzerland that you're sick of each other? And sorry, but this is not the time to meet the parents. It's no vacation if you're sleeping in your childhood bed and your boyfriend has to constantly worry about dirty looks from your dad. Before you bring your boyfriend to another country or invite him home for Thanksgiving, try a road trip or a weekend getaway first.
Allow for time apart. Even if you're still at that stage where you can't get enough of each other, it's easy to OD when you're sharing a tiny tent or windowless cruise cabin. Spend a few hours apart and catch up on your beach reading or get a manicure. Trust me, you'll have more to talk about when you meet up for dinner.
Decide who's paying for what before you leave. Avoid fighting over finances by making the decision in advance. My boyfriend and I agreed that all of our drinks and cruise fees would go on his credit card so he could rack up rewards points. But, being the fiercely independent woman that I am, I wrote him a check for half at the end of the trip (he knew it was coming and happily accepted). Alternately, one of you could pay for airfare and another handle hotel costs. If one of you is footing the bill as a gift or because of an income gap, that should be discussed when you're planning the trip. You want R & R, as in rest and relaxation—not resentment and rancor.