Tasty Tomato Recipes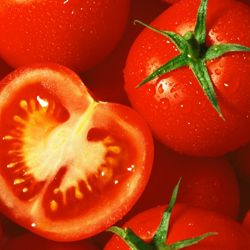 Tomatoes are one of the best and most bountiful vegetables in season right now, and basil is their perfect companion. Don't worry about visiting the garden plot or farmer's market to find this happy couple. Your local grocery store should offer fresh, ripe, luscious tomatoes in all shapes and sizes and leafy bunches of basil. Here are some easy meals starring these seasonal beauties.
Shopping List:
5 lbs. of tomatoes in as many colors, sizes, and varieties as you can find. (You'll need 5 lbs. if you want to make all of the dishes listed here. Otherwise, just buy what the individual recipe calls for.)
A bunch of fresh basil
Fresh mozzarella
Parmesan cheese
1 lb. pasta, dry or fresh
A crusty loaf of bread or baguette
1¼ to 1½ pounds fish: cod, halibut, or salmon
Mixed greens (optional)
6 oz. can tomato paste
Fresh Italian parsley (Italian parsley should be near regular parsley in the grocery store. If you can't find it, leave it out.)
From the Pantry:
Olive oil
Salt
Pepper
Garlic
Butter
Lemon
Yellow onions
Dried oregano
Caprese Salad
This traditional Italian salad is beautiful in its simplicity—perfect for a quick dinner after a long workday. It's great for entertaining, but is also an easy dish to make when dining alone, perfectly complemented by a slice or two of crusty bread and a nice glass of red wine.
4 large ripe tomatoes, cut into thick slices
1 pound of fresh mozzarella, cut into slices
Fresh basil leaves
¼ cup of extra-virgin olive oil
1 teaspoon kosher salt
½ teaspoon coarse ground pepper
On a large plate, alternate between tomato slices, mozzarella, and basil leaves. Drizzle on the olive oil and sprinkle with salt and pepper. Serve soon after preparation. Serves 4, or 2 as a main course. This dish is also great on top of mixed greens or alongside grilled pork or chicken.
Pasta With Roasted Tomatoes and Fresh Basil
The best tomatoes for this recipe are smaller—think cherry or Roma tomatoes.
1 1/2 pounds of tomatoes, halved or cut into quarters
3 garlic cloves, minced
½ cup bread crumbs
¼ cup freshly grated Parmesan cheese
¼ cup olive oil
1 pound pasta—penne or farfalle
½ cup torn basil leaves
Preheat the oven to 400 degrees. In a small bowl, combine garlic, bread crumbs, cheese, salt, and pepper. Place tomatoes in baking dish, spoon mixture over, and drizzle with olive oil. Roast the tomatoes for 30 to 35 minutes or until the tomatoes are browned and bubbling.
In a large pot of salted, boiling water, cook the pasta according to directions and drain. Add the pasta and basil to the tomato mixture in the baking dish and toss to combine. Serve immediately with a green salad.
This pasta can also be tossed with cooked shrimp. Serves 4.
Simple Fish With Tomatoes
This dish is typically French: simple and loaded with fresh flavors.
1 ¼ to 1 ½ pounds cod, halibut, or salmon fillets
1 tablespoon butter
1 ¼ pounds tomatoes, cut and cored into large chunks
2 tablespoons fresh lemon juice
¼ cup fresh basil leaves
Salt and pepper
Preheat oven to 400 degrees. Butter a large baking dish. Lay the fish in the dish and arrange the tomato wedges around it. Drizzle the fish and the tomatoes with lemon juice, then season with salt and pepper. Sprinkle half of the basil leaves over the fish and bake until fish is opaque and the tomatoes are tender, about 15 to 20 minutes. Remove the dish from the oven, scatter the remaining basil over the fish, and season with fresh pepper. Serve right away.
This dish is also great even when tomatoes are not at the peak of perfection. Serves 4, but can be halved if needed.
Fresh Tomato Sauce
This tomato sauce can be used in numerous dishes, is great over pasta, and can be frozen in single-serving freezer bags.
½ cup olive oil
2 cups chopped yellow onion
4 pounds tomatoes, chopped
6 ounces (1 small can) tomato paste
2 tablespoons minced fresh basil
½ teaspoon dried oregano
1 teaspoon salt
1 tablespoon fresh ground pepper
4 cups water
5 garlic cloves, minced
½ cup chopped Italian parsley
Heat olive oil in large, deep pot. Add onions and cook, covered, over low heat until tender and lightly colored, about 25 minutes.
Add tomatoes, tomato paste, basil, oregano, salt, and pepper. Simmer for 10 minutes, stirring occasionally. Add the water and cook very slowly, uncovered, for 3 hours. Stir in the garlic and the parsley and simmer for another 5 minutes.
Add seasoning to taste. Use immediately or cool to room temperature before refrigerating or freezing. Makes about 3 quarts.