Throw a Cookie Swap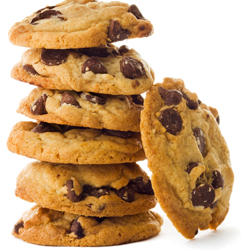 Sure, a cookie swap seems a little grown-up, à la Martha or Mom. But with your hippest friends and a signature cocktail to share (I like glasses of sparkling wine with a few pomegranate seeds dropped in), you're in for a relaxing afternoon of fun.
Here's how to do it: Invite a few friends over and ask them to bring their favorite holiday cookies. They should make one dozen cookies for each person participating in the swap. (Suggest that they actually make them, though store-bought cookies are okay too.) Once everyone has arrived and the treats have been laid out, pop the bubbly and let the swapping begin. (Each person should end up with one dozen of everyone else's cookies. So if you brought five dozen, you'll get five dozen back.) As hostess you should also provide snacks and drinks, as well as festive paper plates or holiday bags for wrapping up each person's assortment of treats.
To get you started, here are a few of our favorite cookie recipes. Happy Holidays!
Gingerbread Cookies
2 cups flour
1 1/2 teaspoons baking soda
1/2 teaspoon salt
2 teaspoons cinnamon
1 1/2 teaspoons ground ginger
11 tablespoons (1 stick plus 3 extra tablespoons) of softened butter
2/3 cup sugar
1/2 teaspoon vanilla
1/4 cup molasses
1 egg at room temperature
1. Preheat oven to 350 degrees. In a bowl, stir together dry ingredients: flour, baking soda, salt, cinnamon, and ginger.
2. In another bowl, cream butter and sugar together and then mix in vanilla, molasses, and egg.
3. Mix the dry ingredients into the wet (don't overmix, but make sure the ingredients are well incorporated). Wrap the dough in plastic and chill for two hours.
4. On a lightly floured surface, roll out dough 1/8 to 1/4 inch thick. Cut dough with cookie cutters and place cookies on baking sheet. Bake for 10 minutes. Let the cookies cool for a minute or two before removing from the pan.
Not into cookie cutters? Roll the dough into two logs (1 1/2 inch in diameter), wrap in plastic, and chill for two hours. When cold, cut into 1/4-inch-thick cookies and bake according to above directions!
Holiday Sugar Cookies
1 1/2 cups butter, softened
2 cups sugar
4 eggs
2 teaspoons vanilla (you can also use almond or lemon extract)
5 cups flour
2 teaspoons baking powder
2 teaspoons salt
1. Preheat oven to 400 degrees. Mix butter, sugar, eggs, and vanilla well. Blend in flour, baking powder, and salt. Wrap dough in plastic and chill for at least one hour.
2. On a lightly floured surface, roll out dough. Then cut with cookie cutters and place cookies on baking sheet. Bake for six to eight minutes, being careful not to let the cookies brown too much. Frost after the cookies have cooled.
Frosting
2 cups powdered sugar
1/2 teaspoon vanilla
Food coloring—your choice!
2 tablespoons milk or cream
Mix all ingredients, adding more milk or powdered sugar to thicken or thin out frosting according to taste.
World Peace Cookies
This is cookbook maven Dorie Greenspan's recipe. The cookies really are good enough that anything (even world peace) seems possible.
1 1/4 cups all-purpose flour
1/3 cup unsweetened cocoa powder
1/2 teaspoon baking soda
1 stick plus 3 extra tablespoons unsalted butter at room temperature
1/4 cup sugar
2/3 cup brown sugar
1/2 teaspoon fleur de sel or 1/4 teaspoon fine sea salt
1 teaspoon vanilla
5 ounces bittersweet chocolate chopped into chips, or 3/4 cup store-bought mini chips
1. Preheat oven to 325 degrees. Mix flour and baking soda. In a separate bowl, beat butter and both sugars, salt, and vanilla.
2. Pour in dry ingredients and carefully mix flour into dough. For best results, work the dough as little as possible (don't be concerned if it's crumbly). Add chocolate and work to incorporate.
3. Divide the dough in half and shape into two logs, 1 1/2 inch in diameter. Wrap logs in plastic and chill for three hours.
4. Slice cookies 1/2 inch thick with a sharp knife. If they crack (they will!), carefully squeeze the cookie back together. Arrange the cookies on a cookie sheet 1 inch apart. Bake for 12 minutes. They won't look done or be hard, but they are. Transfer cookies to a cooling rack, let them firm up, and enjoy!
White Christmas Pecan Bars
2 cups flour
1/2 teaspoon salt
2 sticks softened butter
1 cup brown sugar
1 egg
1 teaspoon vanilla
1 cup pecans, toasted and coarsely chopped
1 1/2 cups white chocolate chips
1. Preheat oven to 350 and grease and flour a 13-by-9 baking pan.
2. Combine flour and salt in a small bowl and set aside. In a different bowl, cream butter, sugar, egg, and vanilla. Add flour and salt mix and 1/2 cup of the pecans. Spread the batter evenly in the prepared pan and bake for 25 minutes.
3. Remove from the oven and immediately sprinkle white chocolate on top. Let stand for five minutes and then gently spread the melted white chocolate in a thin layer over the bars and sprinkle with the remaining 1/2 cup of pecans.
Be sure to allow the bars to cool and the chocolate to harden before cutting!