Time Management Techniques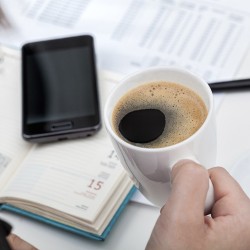 "Workloads are heavier," states Kathleen Alessandro, CEO of Energized Solutions, a consulting firm that advises organizations about innovative ways to do more with less time. Alessandro blames our "hyper-communication" age, where having the ability to instantly respond means we usually do—at a cost to precious time. "The average worker receives between 100 and 200 e-mails a day, is interrupted every seven minutes by someone wanting an immediate response, and is chronically slowed by inefficient office practices," she says. This shrinking number of effective work hours has prompted heavyweights like IBM and Microsoft to create task forces to troubleshoot this very problem.
So how do we keep on top of the clock? Here, Alessandro provides some time-management tips.
Stop feeling obligated to respond to e-mail immediately. Check twice a day at 11 a.m. and 4 p.m. and add a "responder" note to this effect with a telephone number for emergencies.
Send messages in the subject box whenever possible. Encourage colleagues to do the same. Use EOM (end of message) so they know the mail doesn't need opening.
Make notes on your phone. We tend to deal with issues as we think of them, which ruins productivity flow. If you think of something you need to do or discuss, note it, then schedule time to cover it later.
Take advantage of the a.m. Your focus and efficiency are at their peak in the morning. Use your first 96 minutes to tackle priority tasks—no phone, no mail, no meetings. If it all goes to hell later, at least you've nailed the necessities.
Let co-workers know what you're up to. Every morning, create a schedule of your day's duties and e-mail it to relevant colleagues, your assistant, and your boss. Your boss can reprioritize for you or strategically exclude you from meetings. Colleagues will know when to give you a wide berth and—if she's any good—your assistant can take anything she knows she can deal with.