Training a Replacement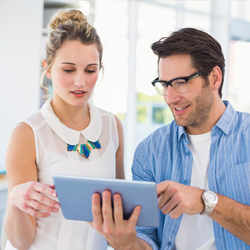 Only 31% of office workers provide adequate information for our replacements. Yep, less than half of us have no qualms about leaving a newbie in the shit with a handful of scribbled Post-its. Ensure a professional passing of the buck—whether you're coming or going—with these tips.
Create a parting package. Your replacement should be able to get down to business from day one, so leave a dossier of daily responsibilities (stripped down to its bare essentials), passwords and codes, in-house system guides, and a concise resources list. Give a verbal briefing on all current projects and, if you're still in the office, hold short recap meetings at the end of each day.
Schedule a casual meeting over coffee. "Offering a java-based Q&A is a classy gesture and avoids a bombardment of 'Help!' phone calls after your departure," explains business relationship expert Robin Jay. "Newbies, take advantage of this relaxed forum to accelerate your initiation. Show interest in your mentor's methods. Say you want to maintain their high standards." Flattery will get you everywhere—or at least prepped for your new position.
Hand over your clients. "Social personalities are central to client bonding, and it can be tough if your clients loved you," explains Jay. "Leavers: Introduce your successor ASAP in a social setting. And create 'Client Summary Cards' to make the changeover more fluid. Include personal tips ('X loves boxing—maybe buy tickets?'), working practices ('X prefers face-to-face. HATES faxes'), and family info ('X is 2 months pregnant')." Arrivals: Tactfully ask for these if they're not forthcoming.
Ask the tricky questions. Forewarned is forearmed, but as a newbie, investigating the job's tougher areas can make you sound indiscreet or negative. So…
Don't ask: "When the proverbial hits—how bad can it get?"
Ask: "What are the worst- and best-case scenarios in your role?"
Don't ask: "So, is the boss really a bastard?"
Ask: "What's his most challenging trait and greatest strength?"
Don't ask: "I'm thinking of changing x, y, and z. What do you think?"
Ask: "Have you ever tried it this way?"
Don't ask: "Who are the office assholes?"
Ask: "How would you describe the personality of the team?"
If you're the one leaving, make sure the answers are covered.
Don't leave her hanging. It's tempting to sack off introductions—hey, if it goes to hell after you've gone, the new girl will take the heat, right? Wrong. "Your replacement's initial success reflects on you," warns Jay. If, as the new girl, you feel unprepared because your predecessor is slacking on the specifics, meet with your senior manager and review the duties you've been given. And remember, if you do get left in shit—don't freak. See it as your first chance to show what you're made of.