Traveling on a Budget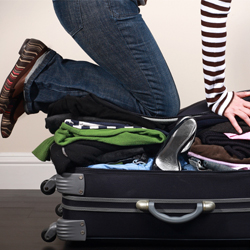 Even if you set a spending limit before you go, traveling can get expensive—fast. Airport meals, extra drinks, and higher-than-expected hotel prices can bring you back broke, if you let them. And with budgets tight and bonuses nonexistent, cheap vacays are not just a want, but a need. Do a little planning before you go and you'll return with a tan and extra pesos (or yen), which can definitely ease the back-to-work blues. Here, five smart ways to save when traveling.
Buy tickets ahead of time. Airline prices go up a few weeks before flights take off, so try to cruise the Net for good ticket prices a month or two before your trip. Don't have time to constantly troll airline websites? Sign up for a service like Trip Watcher through Hotwire.com. It will e-mail you weekly updates on prices for your scheduled itinerary. Feeling adventuresome (but still cheap)? Download the Hipmunk app, which lists the cheapest airfares from all over the globe.
Hone in on the hotel. Some travelers focus so much on getting a cheap plane ticket that they forget about hotel costs. Avoid this by booking a room before packing your bags. Check for deals right before or after holidays (like the week before Labor Day), when hotels will be looking for customers. If the receptionist lists a price you feel is too high, ask for a better rate. Chances are, you'll get one. For deep discounts, head to AirBnB. You can enter how much you're willing to spend on a room, and what kind of quality (two-star, four-star, etc.). You can also see how other users rated their stay.
Mete out your meals. Unless you plan to live on mints and bottled water, eating will take up a large chunk of your travel budget. But you can take a number of steps to make sure it doesn't sabotage your entire savings. Grab lunch before you head to the airport to avoid the high-priced food in the terminal. Get a hotel with breakfast included, and take full advantage of it. For tight budgets, limit restaurant visits to one a day. Eat snacks, visit the grocery store, or hit the street vendors for the other meals. If you want to eat at a high-end restaurant, head there for lunch. Lunches are usually less expensive than dinners, and you'll still be able to enjoy the atmosphere.
Get a leg up. Taxis and car rentals are not usually your only options, especially in big cities and international destinations. Check into bus and subway options. And don't forget about your feet. Walking will not only reduce transportation costs, it'll let you experience the sights and sounds of the city.
Ask the locals. Not sure where to get the best deals on souvenirs? Ask city natives where the best places are to eat, get groceries, and find transportation. By getting an insider's viewpoint, you're bound to find some great deals and explore areas that guidebooks might not cover.