Travelwear 101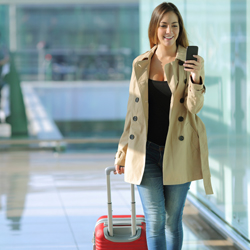 Crowded airports and pressurized plane cabins aren't particularly comfortable places. So when we travel, it's not surprising that we reach for oversize hoodies, UGG boots, and our favorite boyfriend jeans to keep us cozy en route to our destination.
But when we travel for work, we need a look that presents a more professional image, particularly if we get a chance to network with our seatmate or need to head straight to a client site after we land. Fortunately, you needn't adopt a full (read: uncomfortable) suiting ensemble. Instead, try one of these polished looks for your next business trip.
The Audrey Hepburn
There's something so simple, yet chic, about Hepburn's 1960s style. Adopt a similar look by slipping into a pair of black cigarette pants and a cashmere turtleneck or a sweater with a boatneck "Sabrina" neckline. Keep the colors monochromatic—whites, beiges, and blacks work best for this look—and finish it with a pair of dainty ballet flats and pearl studs.
The Traveling Saleswoman
A structured trench coat and utilitarian leather tote come together for an office-worthy look. Don't be afraid to go beyond khaki shades with the coat—a punchy citrus hue or silvery jacket with a subtle sheen will make you stand out from the crowd. Underneath, slip on a basic black wrap dress (it's far more comfortable for long trips than an A-line skirt), and on your feet, if you can find them, wear kitten heels that match your coat.
The Celebrity Copycat
Jet-setting celebrities can get away with edgier travel ensembles, but the best dressed among them stick with a crisp, casual look. Mimic their style with dark denim boot-cut jeans topped off with a snappy white button-up shirt. Toss on a leather coat or duster-length jacket (to hide the wrinkles you might create on the plane), and add a few accessories to avoid being a plain Jane. Simple gold hoops or diamond studs work for jewelry; you can add a bit of color to the ensemble with colored pumps or a scarf.
The Weekend Worshipper
A long shawl cardigan thrown over a camisole will keep you warm while you're on the plane, but it looks sloppy without the right accessories. Cinch a broad patent-leather belt around your middle to give the sweater a more appealing shape, and skip the leggings you'd wear with the ensemble at home. Instead, slide into a pair of your nicest, office-worthy jeans. Finally, add a bit of height with a pair of pumps so you can walk tall off the (airport) runway.