Turning Your Passion Into a Paycheck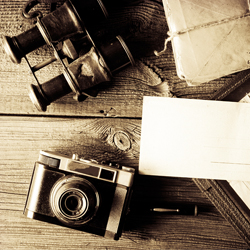 I was raised to believe in the straight and narrow. In other words, going to college, getting a full-time job with health insurance, and climbing the corporate ladder. Trouble is, after more than two years trapped inside a cubicle, my career in publishing was going nowhere and I was the unhappiest I'd ever been. I knew I needed to make a change, but had no idea what to do.
Over and over I heard the advice "Do what you love." To me, it simply couldn't be so easy. I loved to make people laugh, but how was I going to get paid to do that? After wasting even more time rotting away at my office job, I decided it was up to me to find out. I quit my job to pursue a career in television writing, and I am happier than I have ever been. And you can be too. Keep these tips in mind as you follow your bliss.
Figure out where your love lies. Many times, the things you love doing today are the same things you loved doing as a kid, when life was much less complicated. Robyn Murgio of Los Angeles got a starter sewing kit for her 8th birthday and enjoyed making stuffed animals and doll clothes. Years later, she turned her love of sewing and design into her own company, (Murge Designs), creating funky aprons, bags, and baby gear that are sold around the country.
Know your niche. Necessity certainly is the mother of invention. But for artists, designers, and writers, holes in the marketplace are the mother of creation. Murge Designs was actually borne of Robyn's desire for her ideal bedding. "I wanted a cute and interesting duvet cover for my bedroom but couldn't find anything I liked that I could afford. So I bought a sewing machine and designed one," says Robyn. After friends wouldn't stop placing orders, Robyn realized she was onto something and Murge Designs was born.
Be your own advertisement. I'm not suggesting being a nonstop billboard for your new venture, but loving and believing in what you're making is a good place to start. Leslie Newton of (timi & leslie, inc.) is an L.A.-based actress–cum–handbag designer who got her start when she made a simple carryall for herself. "Strangers kept asking me where to buy one, so I'd charge them $25, get their address, and then make one," she says. Now her bags are sold worldwide, with sales topping $500,000 this year.
Recruit help. One thing is for sure: You're not going to be able to do it alone. Both Robyn and Leslie credit much of their success to the advice they've gotten along the way. "Find a mentor or an ally who has done something similar to you. It's invaluable in figuring out how to go about turning your craft hobby into a business," says Robyn. Leslie has recently taken on advisers to help grow her business internationally.
Tune out the negative Nancys. Taking the leap can be a daunting task, complete with the inevitable naysayers. While Leslie was lucky to have nothing but supporters, Robyn saw her share of sourpusses. "There were tons of discouragers, basically everyone I talked to in the sewing manufacturing world," she recalls. But she leaped anyway, and now Murge Designs is in its fifth year of operation. "It's a labor of love," she says.
As for me, I've taken the leap, and started small. While I haven't "made it," I'm expecting big things. And that's half the battle.