Wedding Planning at Work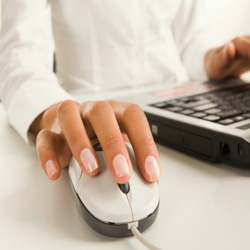 You've either known her-or been her. The ring is on the finger, the big event a mere nine months away and the office? Wedding day headquarters!
If you're spending more than five hours a day at The Knot (and you're not an official, certified, full-fledged wedding planner), either you've already got a problem or you're going to have a serious one as soon as your boss finds out.
Here is some office etiquette for planning your wedding day – so that you still have a job to come back to after the honeymoon ends.
Center of the Universe
First, let's be crystal clear. While your upcoming nuptials are the center of your universe, most of your coworkers won't be swept up in the excitement. Sure, we all want the details of the proposal and we may even ask where you got your dress. But, the fact that you've got to book two airline tickets because your Aunt Mildred is 400 pounds is way too much information. Be respectful, and even if your coworker is nodding her head and feigning interest, I can almost guarantee that she's bored senseless.
Touchy Subject
This leads us to another little detail you don't want to overlook: Weddings are a touchy topic. Just ask the woman in your office who's decided to leave her husband or your 44-year-old colleague who really does believe she's more likely to be murdered in broad daylight than to get hitched at this stage in her life.
Party Headquarters
As tempting as it is to message your invitation designer on company time, print your RSVP labels on the office printer, or run them through the postage meter, the reality is, your office is not your wedding day command center. That said, if 60-hour workweeks are your reality, lunchtime or after-hours are fair game. In some cases, with some heartfelt enthusiasm from your boss and some major initiative and carefully observed boundaries on your end, you might just be invited to use the office resources anyway. Then you can leave your wedding planning guilt at the door and stop sneaking around.
To Invite or Not to Invite
There are some clear picks: your best-friend colleague who has sat next to you for a year is a definite yes. The guy who stole your great campaign idea last year is an easy no. What about everyone in the middle? If you're planning your wedding at the office, many of your coworkers might simply assume that they're invited. Be clear from the start – numbers are tight. In the end, your wedding is a personal and a family-focused event, not a business networking function. If you have any hesitation about inviting your coworkers or your boss, leave them off the list. You don't want to have any regrets looking back.
Thank You
Nine months later and your big day goes off without a hitch. Before you begin to tackle that mountain of thank you cards, write a heartfelt note of appreciation for the coworkers who really did care about you and your big day. Better yet, bring a great souvenir back from the honeymoon.
Just don't offer to show the wedding video at the next staff meeting.