Behaving like Adults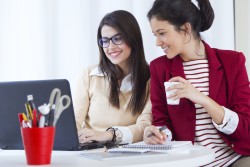 Youthfulness is in, but not at the office. After hours you can be as girlish as you choose: Don those baby-doll tops, lacy minis, and sassy Mary Janes. But at work, it's adults only. Maturity and responsibility scream promotion, whereas flightiness, eye rolling, and giggling do not. Here are some major immature workplace don'ts—and how to correct them if you, like, you know, need to.
Don't…use your baby-girl voice at work! This seems like a no-brainer, but a recent article in the Wall Street Journal suggests otherwise. Apparently, there's a trend of powerful women speaking in teeny-tiny voices. We're not sure why you'd do this—sure, it makes you seem less threatening, but it also makes you seem 12 years old. Case in point: I recently told a woman I work with that we were almost done with a big project. Her response? She waved her hands in the air and squealed, "Yea!" You would have thought I'd told her we were going to the zoo.
Do…speak and write like an adult so that people will know you're mature, responsible, and workplace savvy. One surefire way to say, "I'm a well-put-together woman": monogrammed stationery or notecards. Find chic, inexpensive varieties at TheStationeryStudio.com.
Don't…talk about Mom and Dad in serious workplace situations. Yes, your parents gave you life and have made you the person you are today. That's great. But no one cares what your dad thinks about the real estate market, your long hours at work, or world events. In fact, starting a sentence with "My dad says…" only makes you seem like a child who's immature and dependent—definitely not the image you want to portray in the office.
Do…practice being influential in a more appropriate way. Cite reputable news sources, business journals, or meetings with co-workers or consultants when making a point.
Don't…be a "whatever" girl. Generic responses make you seem way too boring and accommodating. The other day I asked a co-worker if she wanted to take lunch. Her response? "Whatever." I offered to bring her coffee and asked what she'd like. "Whatever," she replied again. I thought about running a marketing proposal by her but thought better of it. Why bother? She'd probably tell me it was, well, whatever.
Do…have an opinion, even about the most basic ideas. It makes you look alert, attentive, thoughtful—like you have a brain and use it regularly.
Don't…act overly shy and timid. Nonassertiveness breeds business snafus. You must be able to stand and speak up. I once had an employee who was so shy she nearly refused to speak to anyone but me. I often had to prompt her to follow up with other co-workers in front of them. I felt like a mother with a small, shy child.
Do…ask for help. Ask questions. Stand up for your needs! Raising your voice won't make you look bossy or bitchy; instead you'll look strong and ready to face challenges head on.
Above all, remember to go to work and act responsible, poised, polite, friendly and assertive. And think about leaving that baby-doll mini at home.