Cover Letters Count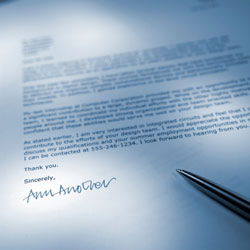 "Do employers really read cover letters?"
I can't tell you how many times I've heard that question, and I always give the same response: "It doesn't matter. Your cover letter has to be excellent no matter what." The reality is that some employers read 'em and some don't. But I can pretty much guarantee that the one time you write a crummy cover letter, it'll definitely be read.
Murphy's Law aside, cover letters really are an important piece of the job-hunting puzzle. They provide an opportunity for your real personality and talent to shine through. Like the personal essay portion of a college application, the cover letter helps you to differentiate yourself and make a unique impression on a potential employer. The résumé is science. The cover letter is art. Here are some tips to perfecting your craft.
Remember that a cover letter is, at its heart, a letter. I learned this tip from WORKS founder Nicole Williams. She points out that cover-letter writers should always keep in mind that they are writing a correspondence, so it's important to be cordial, polite, and interesting. This also means finding out the exact name (and correct spelling and gender!) of the person to whom you're writing. This may require a phone query to the company's receptionist or some heavy Google research, but it's worth it. Sending a cover letter "To whom it may concern" is the equivalent of addressing a letter to "Occupant." Likewise, every cover letter should be tailored to the particular job you want. Recruiters can smell a template letter a mile away.
Focus on the WIIFT. WIIFT stands for "What's in it for them." In other words, your cover letter shouldn't detail what you hope to get out of the job; it should focus on what you can offer an employer. What value do you bring? How will your skills serve the needs of the company or department to which you're applying? Why are you the perfect fit for their company?
Discuss fit. When I speak to employers about what they seek in an employee, they often talk about finding a good fit. This means that you should write about how you (and your talent and experience) are a good match for the position you want. Don't discuss how perfect you are or how perfect this opportunity is; instead, discuss how perfect you are for each other.
Let your passion shine through. While a résumé has to be 100 percent professional, a cover letter can have a little spunk. After all, you're selling yourself here, so be positive! I wouldn't suggest writing your letter in iambic pentameter or purple glitter pen, but you can let a bit of creativity and personality shine through—such as mentioning how much you love the company's products or discussing an alma mater you have in common with the recipient of your letter.
Get a second opinion. To make sure your cover letter is as powerful as it can be, show it to a few trusted advisers before you send it to an employer. It's you on paper, and it should be just as smart and savvy as its living, breathing counterpart.