Dressing Too Sexy at Work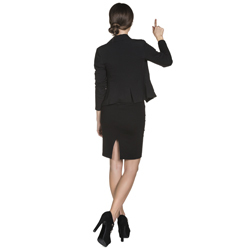 What follows is one of the least controversial statements of the 21st century: Angelina Jolie may very well be the sexiest human being on the planet. But just what quality makes her sizzle? Her pouty lips? Her ever-present oversize sunglasses? Her multiple adoptions from underdeveloped nations? Her ultimate accessory, Brad Pitt?
Correct answer: Angelina Jolie is the sexiest human being on the planet because she carries herself like the sexiest human being on the planet.
Locating your inner Angelina probably requires some form of prodding, be it from a personal mantra, a Justin Timberlake song, or an item of clothing or wardrobe accessory (alas, Brad Pitt is not currently available). And you shouldn't need more than one wardrobe item at a time to reach that Jolie-esque confidence.
You might scoff at wearing more than one sexy item at a time, and you should: Many of the places we find ourselves during the workday aren't venues in which to flaunt all our goods. But one item? Definitely doable. We're not talking fishnet stockings, patent leather stilettos, and the other fetishistic items you'll find in a porn store; we're talking "sexy armor" that gives you the inner sass to carry yourself like the sexiest human being on the planet without drawing attention away from who you are. Bonus: You might catch your own Brad Pitt accessory in the process. Sexy isn't what you wear, but how you wear it, and these sexy wardrobe items might be the tools you need to unleash your inner Angelina:
A bit of bling. Diamonds are indeed a girl's best friend…as are Swarovski crystals, semiprecious stones, hammered gold, sterling silver, and the dozens of other materials used to build some damn fine pieces of jewelry. Well-chosen earrings can catch the color of your eyes or elongate your neck, while long necklaces are great to play with (distractedly, of course) during oh-so-innocent flirtations.
Well-applied warpaint. In the right hands, a tube of mascara (or lip liner, or a flatiron, or a killer shade of nail polish) can revive an aura of sexiness grown stale. Red lipstick, smoky eyes, manicured fingers, and healthy hair spell confidence and a "finished" look (think Charlize Theron, Halle Berry, or Reese Witherspoon). Know when to put down the makeup, though. In the wrong hands, that very same tube of mascara could turn the sexiest human being on the planet into Krusty the Clown.
Lacy lingerie. Your bra and panties might only ever be on display for a select few, but, when well-chosen, they can make you feel sexy. Don't sacrifice comfort for undeniably erotic underthings (crotchless panties might float your boat in the bedroom, but you might feel très awkward wearing them under your work clothes). Instead, seek out items that make you feel sexy in your body. You'll ooze sensuality and confidence and no one will know why—unless you want them to.
Subtle flashes of skin. The pencil skirt with the slit up the leg; the sweater that draws the eye to your décolletage; the black minidress that works best with your long black trench. These are the classics (and have been for decades) that unquestionably enhance your best features. Because these items scream sexiness, err on the side of subtlety (especially if you're heading out for work). Let the power of suggestion do the rest.
The perfect shoe. It doesn't take much more than this to make me feel sexy (I'll never forget the moment I found my perfect shoe in 2004: a leopard-print pump by GUESS?). Yours might be a black leather boot that hits the knee, a three-inch wedge, or, like me, a printed pump. It'll add bounce to your step, lengthen your leg, and feel most seductive when you're crossing your legs.